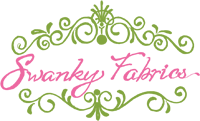 Greensboro, NC (PRWEB) October 20, 2017
First impressions make lasting impressions, but thanks to the newly added fabrics to a Greensboro, North Carolina-based company, people across the nation will now have access to one of the most diverse and creative collection of upholstery and drapery fabrics around for not only a lasting impression, but an unforgettable one.
"We're excited to add Scalamandre fabrics and trims to our online store," said John Dawkins, president of and spokesperson for Swanky Fabrics, a company that believes Swanky is a way to say who you are without having to speak. "Our online store empowers customers with instant access to great upholstery and drapery fabrics without the designer price."
Scalamandre is an American luxury brand that features beautiful decorative textiles, wallcoverings, trimmings and furniture of the highest quality. Scalamandre's commitment to the art and craftsmanship of its products has been the company's hallmark, and its clear sense of integrity has produced a rich heritage of uncompromising quality and excellence. Long a destination for connoisseurs of classic design, Scalamandre's legacy began over eighty-five years ago when Franco Scalamandre began producing silk reproduction textiles for historic properties.
Customers will be treated to a wide variety of Scalamandre fabrics and trims, including, Acacia Ash, Academy Bisque, Alaska Arogosta, Amazed Azure, Bali Coffee and Celadon, Bamboo Yellow, and more.
"Some people look for a beautiful home, but I believe in making a home beautiful," Dawkins stressed, before adding, "My desire is that being swanky will become a part of who you are. Swanky Fabrics seeks to inspire you with our designer fabrics that not only look amazing, but also won't break your pocket book.
"Scalamandre continues to showcase its iconic designs today, as well as exciting new introductions that reflect the most current design and color trends in modern interiors," Dawkins said. "We invite everyone to visit our online store. We're sure you'll love what you see."
For more information, please visit swankyfabrics.com/about-swanky-fabrics.html.
About Swanky Fabrics
Swanky Fabrics is a leading online destination for upholstery and drapery fabrics from over 50 brands such as Barrow, Duralee, Fabricut, Kravet, Magnolia, Robert Allen, Scalamandre, Sunbrella, Waverly etc.
Source: Swanky Fabrics
###