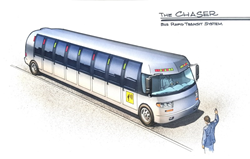 Reducing cost of ownership and maintenance while increasing effectiveness and flexability
BRIGHTON, Mich. (PRWEB) December 12, 2017
Chaser Unlimited, LLC Goes Live on Crowdfunder.com Today for Seed Stage Capital Investment.
The heartbeat of every city is the public transportation system and our roads are the arteries of commerce moving people and merchandise on demand. We at Chaser Unlimited seek to increase the strength of that heartbeat and increase the efficiency and effectiveness of the arteries of commerce with a revolutionary new approach to public transportation. We have designed 'The Chaser' to answer the call for private space in public transportation that is a perfect match for today's on-demand ride-share services providing door to door transit for the Traveler in unrivaled comfort and security.
The Chaser brings a bold new vision into the world of public transportation in a modular and reconfigurable transportation chassis. The Chaser enables easy reconfiguration or replacement of individual passenger compartments, ADA complaint wheel-chair ramps and other utility compartments such as EMT, Fire Rescue, palletized cargo, small package delivery and agricultural harvesting.​ With an all electric, all wheel drive and all wheel steering drive-train Owner/Operators may choose the fuel system that best fits the local economy with easy 'hot-swap' power modules so the Chaser will be a snap to upgrade as best needed in the local economy.
The global market for new bus delivery is fast approaching 630,000 units per year and some sources suggest the market is growing at 4% per year presenting a perfect window for launching the Chaser.
After more than a two years of private market analysis, cost modeling, design and planning, the Chaser Unlimited LLC was formed specifically to take the Chaser out of seed stage and into production. If you are ready to be a part of a bold new vision for public transportation that will be a perfect and practical fit for modern ride-share programs, we welcome you to visit our crowd-funder site and consider this great opportunity be becoming an investor in our first Seed Round.
http://www.crowdfunder.com/chaser
Also please like, share and follow us on Twitter!
https://twitter.com/ChaserBus
@ChaserBus