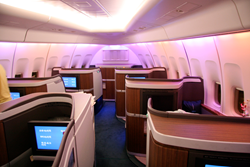 With the vast number of new Boeing Dreamliner and Airbus airplanes coming online from 2017 to 2019, first-class cabins are evolving," Graft added. "We want travelers around the world to know about the latest luxuries available to them.
CHICAGO (PRWEB) October 20, 2017
IFlyFirstClass List Criteria
The travel service reviewed airlines' chauffeur service, ease of check-in, lounge amenities, onboard comfort and privacy, quality of cuisine and in-air service to compile the list. The list addresses services and amenities found on long-haul international flights.
"We take our travelers' comfort and satisfaction very seriously," Julia Graft, the company's public relations director, noted. "We want them to have all the information they need to make informed decisions about their chosen airlines. Our annual Top 5 list is one of the vehicles we use to help convey needed information to those who want to travel in the lap of luxury."
A Wide Range of Airlines Take the No. 5 to No. 3 Spots
Two airlines tied for IFlyFirstClass ' No. 5 position on the list: Air France and Cathay Pacific. Air France' La Premiere class cabins are bright and welcoming, with fairly private seating for travelers. While seats aren't the longest in the industry at 77 inches fully reclined, they are spacious and topped with a lush memory foam mattress pad. Service aboard Air France is well-regarded, and amenities kits include Givenchy products. Cathay Pacific offers a more spacious top-level seating arrangement, with seats that recline fully and are topped with a 500-thread-count duvet. Caviar service and Krug champagne add a luxurious element to the flights too.
IFlyFirstClass ranks Lufthansa at the No. 4 spot of top luxury flights. The airline's pampering of passengers begins well before take-off, beginning with chauffeur service to the airport. Travelers flying through Frankfurt enjoy even greater accommodation, skipping the general airport terminal altogether and using the dedicated Lufthansa First Class terminal. After checking-in, passengers are driven directly to their airplane. Once on board, Lufthansa seats don't have the privacy found on other airlines, but they're comfortable and relatively spacious. In-flight service is consistently impeccable and attentive. For refreshment, the airline provides caviar service, a wine list developed by renowned sommelier Markus del Monego and a menu compiled by a global assortment of top chefs.
Emirates is No. 3 on IFlyFirstClass ' list. The airline's luxury offering is best-known for its light and airy design and glitzy feel. While the seats are not as spacious as with some other options, the airline makes up for it with top-of-the-mark amenities. These include Voya organic seaweed skincare products and Bulgari amenity kits. An onboard lounge provides social space, mood lighting and snacks. In-flight meals are gourmet and served on fine china, and passengers can refresh in an onboard shower. As with several other luxury flight options, Emirates offers complimentary chauffeur service to and from the airport.
Singapore Airlines Earns the No. 2 Position on IFlyFirstClass ' List
At the No. 2 spot on IFlyFirstClass is Singapore Airlines. The airline is a frequent favorite for many IFlyFirstClass travelers. The air carrier's top-level accommodations are spacious with extra-wide leather seats that are common on Singapore's first and business class flights. Headrests are well padded, lights can be adjusted for work or relaxation, and entertainment includes the airline's signature KrisWorld selection. Those wanting even greater comfort and room can book Singapore's first-level suites on some flights. These suites are intimate, separate cabins designed by Jean-Jacques Coste. Suites have separate, dedicated beds that are not merely seats laid out in a reclined position. Singapore also offers a Book the Cook service for all of its luxury travelers.
Etihad Airways Is the Best in Its Class
The acme of first class travel, Etihad Airways' apartments are a step above most other airlines' offerings. The cabin configuration is a simple one with two seats per row, separated by an aisle. Apartments have their own doors which don't go all the way to the cabin ceiling, but they provide significant privacy. With each apartment encompassing nearly half the width of the airplane, there's room to walk around, spread out work papers or host other passengers for impromptu meetings within the apartment.
For those traveling with companions, Etihad's adjacent apartments have a retractable partition that allows companions to sleep side-by-side. Plush leather seats recline to a fully flat 82 inches, one of the longest seats in the industry.
Amenities and services aboard Etihad are top-caliber throughout. An onboard chef prepares meals to order. A cushy lounge area and an inviting "lobby" in the upper deck provides seating and mingling room for those who want to socialize or conduct a business meeting. Bedding is all-natural and lush, supplied during a pampering turn-down service. The amenity kit is made by Christian Lacroix and filled with Omorovicza skincare products.
The airline also recently debuted its Residence Suite option. It's a three-room suite with every nearly every conceivable amenity. When delivering high-end services, Etihad covers nearly every traveling need, earning its No. 1 spot on IFlyFirstClass ' Top 5 list.