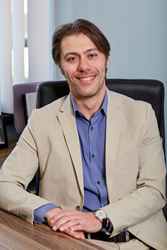 Stamford, CT (PRWEB) October 24, 2017
With locations in Stamford and Wallingford, Connecticut Pain Solutions has long been known as one of Connecticut's top pain clinics. With a completely redesigned website, the clinic is making it easier for patients to find information than ever before.
About Connecticut Pain Solutions
Connecticut Pain Solutions has one primary focus: to use cutting-edge, minimally invasive techniques and treatment protocols to help patients avoid surgery. The clinic offers targeted procedures for each section of the spine, as well as for neurological, abdominal, and pelvic pain. Techniques include, but are not limited to:

Platelet Rich Plasma Injections
AmnioFix Injections (stem cells)
Spine/Joint Steroid Injections
Nerve Blocks
Radiofrequency Ablation (Rhizotomy)
Kyphoplasty
Botox/Dysport/Xeomin Injections
Spinal Cord Stimulation
Genicular Nerve Blocks
Medication Management
Physical Therapy
Chiropractic Manipulation/Therapy
Connecticut Pain Solutions also offers a variety of esthetic procedures such as dermal fillers and esthetic Botox, vampire mask-PRP injections, O-shot, P-shot, treatment for excessive armpit sweating, Kybella.
About Dr. Turok
Dr. Igor Turok is one of just 200 physicians in the United States to be board certified in both neurology and anesthesia, interventional pain management. This gives him a comprehensive understanding of the complex issues involved in chronic pain, and the knowledge and skills to accurately diagnose and treat each patient's pain.
Before opening Connecticut Pain Solutions, Dr. Turok was Director of Neurology and Pain Management at Masonicare Health Center and at NYC's Gracie Square Hospital. He was also Medical Director at Jackow Perlow Hospice of New York, and Director of Saint Vincent's Methadone Clinic.
Dr. Turok takes a holistic, highly personalized approach to each patient's needs. Depending on individual circumstances, complementary physical and chiropractic therapy may be recommended.
To learn more or to schedule an appointment, call Connecticut Pain Solutions at 203-724-9290 (Stamford) or 203-626-9080 (Wallingford), or visit the website at https://www.ctpainsolutions.com/. The Stamford office is located at 999 Summer Street, Suite 100, Stamford, CT 06905. The Wallingford office is located at 67 Masonic Avenue, Suite 2400, Wallingford, CT 06492.