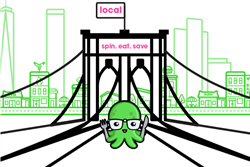 BETHESDA, Md. (PRWEB) October 27, 2017
Dining out in Brooklyn is about to get a whole lot easier and less expensive. Spotluck, the popular discount dining app, debuts in Brooklyn on October 20th, offering savings of up to 35% off tabs at 100 local restaurants. Spotluck launched in Manhattan in April and now offers savings at nearly 400 restaurants throughout the entire New York City area.
Spotluck users enjoy restaurant discounts with a unique "spin" that helps them decide where to eat. The app's discounts constantly change and aim to attract customers when restaurants need them most. "Dining should cost less on a rainy Monday night than on a busy Friday night," says Cherian Thomas, Spotluck's CEO. "It's dynamic pricing similar to Priceline.com and Hotels.com."
The app captures important restaurant information including menus, directions, reviews and photos. The restaurants are organized by neighborhoods, making it easier to answer the "where do we go out to eat" question often experienced by family and friends. You can even summon an Uber right from the Spotluck app to pick you up and take you to the restaurant.
"Spotluck is a win-win as diners save through the various options in the app and restaurants get an opportunity to be introduced to a new audience during those in-between hours of the day." says Jonathan Bayer, owner of SkyIce. "Spinning the wheel is just the beginning of the fun!"
Spotluck only partners with locally-owned restaurants. In Brooklyn, participating locations include Claudine's, F.O.B., Woodland, Fabbrica, Barley, Lady's and Wallabout.
About Spotluck
Spotluck is the number one dining app on iTunes. It's available for free download on iPhone and Android. Spotluck solves the recurring "where to eat" question with preferred pricing incentives and a fun game of chance. The app offers smart discounts that fluctuate based on day, time and weather. Plus, users spin to get bonus discounts at randomly-selected restaurants. Spotluck first launched in 2014. It now partners with more than 1,300 local restaurants in and around Washington, DC, Philadelphia, Baltimore, Richmond, Wilmington, New York and throughout the Mid-Atlantic region.