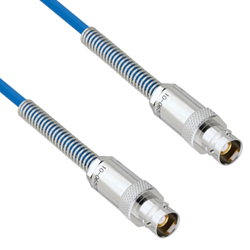 "These new plenum-rated cables are perfect for locations where excessive smoke or flame could affect people or electronics during a fire," said Mark Hearn, Product Manager
LEWISVILLE, Texas (PRWEB) October 26, 2017
MilesTek, a leading manufacturer and supplier of products designed to address military and avionics applications, announced today that they have released a new series of plenum-rated cable assemblies to address MIL-STD-1553B connectivity applications.
Plenum cable jackets reduce the amount of smoke and flame emitted during combustion, when compared to PVC jacketed cables. Typically used in air handling spaces such as ceilings and walls or in poorly ventilated areas, plenum cables are widely used in military applications.
MilesTek's new plenum-rated cable assemblies are available in both 78 Ohm (.150" O.D. and .242" O.D.) and 124 Ohm (.242" O.D.) versions. The cables are offered off-the-shelf in standard lengths or they can be ordered in custom lengths. They feature TRB plugs and jacks, insulated and non-insulated bulkhead connectors and blunt end combinations.
"These new plenum-rated cables are perfect for locations where excessive smoke or flame could affect people or electronics during a fire. Many of our military customers are utilizing plenum-rated assemblies in their network designs to safeguard their personnel and expensive communications equipment," said Mark Hearn, Product Manager.
MilesTek's new plenum-rated MIL-STD-1553B cables are in stock and available for immediate shipment.
For more information about this release, please contact:
Peter McNeil
MilesTek
17792 Fitch
Irvine, CA
978-682-6936 x1174
About MilesTek:
MilesTek designs and manufactures a broad range of MIL-STD-1553B products to address Military Avionics, Aerospace, Industrial and government applications. In addition to a wide selection of off the shelf products, MilesTek can custom manufacture cable assemblies and harnesses. MilesTek is headquartered in Lewisville, Texas and is AS9100C and ISO9001:2008 certified. MilesTek is an Infinite Electronics company.