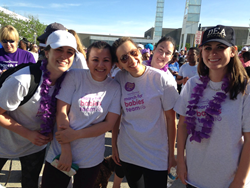 What a privilege it is to apply our marketing know-how to the particular needs of the nonprofit community.
ATLANTA (PRWEB) October 25, 2017
Since opening its doors in 1981, Atlanta-based advertising agency, BKV has served nonprofit clients. The agency provides digital and traditional services for local and national nonprofit organizations alike, including March of Dimes, American Red Cross, Wounded Warrior Project, Greenpeace, The Seeing Eye and Environmental Defense Fund. In fact, one of their longest standing client relationships has lasted fourteen years with American Red Cross, and is still going strong.
BKV doesn't just treat these client relationships as business; they also dive into the causes and fundraise all year long. In 2017 alone, BKV has put on multiple internal fundraising efforts, including bake sales to raise money for the annual March of Dimes' March for Babies walk and American Red Cross hurricane relief efforts for Harvey, Irma and Maria. They also sponsor a March for Babies team every year and hold annual blood drives at their offices through the American Red Cross. The agency also supported the Wounded Warrior Project Courage Awards and Benefit Dinner, which raised money for veterans and service members who were injured on or after September 11, 2001.
"What a privilege it is to apply our marketing know-how to the particular needs of the nonprofit community," notes Virginia Doty, EVP, Director of Nonprofit Accounts at BKV. "From digital ads to direct mail, more than a third of our 110 employees touch our fundraising clients on a regular basis."
On a pro bono basis, BKV also plays a significant role in 48in48, an annual event that creates 48 websites for 48 local nonprofits in 48 hours. The agency volunteers their time, resources and talent through web development, strategic training and social media promotion. This year's event took place October 6-8 at Post-Office Cowork in Atlanta.
To stay up to date about other BKV fundraising efforts and nonprofit marketing trends, sign up for BKV's quarterly nonprofit e-newsletter.
About BKV
BKV is an Atlanta-based full-service direct and digital advertising agency specializing in using data-driven strategies that make brands work harder. BKV's client portfolio includes local, national and global brands. The agency provides digital and traditional media services, as well as creative, web development, email marketing, CRM, SEO, social media, digital PR, direct mail, DRTV, database management, analytics and data modeling. For more information, visit http://www.bkv.com. BKV is a part of unified.agency which has offices in Atlanta, New York, Chicago and Princeton, NJ.