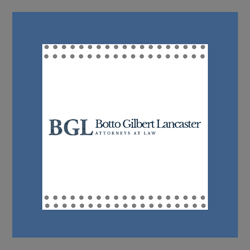 It has always been the firm's goal to reduce the stress and anxiety of the legal process for our clients, while working to earn the most favorable outcome in every case. - Managing Partner Francisco J. Botto
CRYSTAL LAKE, Ill. (PRWEB) October 23, 2017
The law firm of Botto Gilbert Lancaster, PC recently announced they have enhanced their legal practice to add criminal and civil appeals, estate planning services and expand their real estate department.
The firm's broadened real estate practice includes counsel on matters of sales and purchases of commercial and residential property, short sales, foreclosure defense, and guidance in dealing with local planning and zoning regulations. In counseling clients through the Appeals process, attorneys will pursue higher court review of lower court decisions in both criminal and civil matters. In providing Estate Planning services, Botto Gilbert Lancaster, PC attorneys will attend to such matters as preparing and executing wills, establishing trusts, navigating the probate process, creating powers of attorney, and providing for the guardianship of disabled adults and minors.
"It has always been the firm's goal to reduce the stress and anxiety of the legal process for our clients, while working to earn the most favorable outcome in every case," stated Managing Partner Francisco J. Botto. "Expanding our practice allows us to follow through on that commitment to a larger number of people in need of legal representation."Mr. Botto added that the new and improved website is an effort to inform those in need of legal counsel of the firm's successes in securing the dismissal of criminal charges, reinstating driving privileges, and providing meticulous and successful representation in divorce related matters.
"We enhanced the firm's website to include blogs on current legal issues, in-depth articles about matters related to our practice, and a section of frequently asked questions and answers, all of which will offer more information about services we offer to potential clients living in McHenry County and the surrounding communities," he said.
About Botto Gilbert Lancaster, PC:
The law firm of Botto Gilbert Lancaster, PC is located in Crystal Lake, Illinois. The firm's experienced McHenry County attorneys work within a wide-range of practice areas including real estate law, workers' compensation, personal injury, family law, criminal law, and business law. The firm effectively represents individuals and businesses throughout Northern Illinois in the counties of McHenry, Lake, DeKalb, Cook, Boone, Kane, and Winnebago. Call 815-338-3838 or fill out our online form to schedule a free initial legal consultation with Botto Gilbert Lancaster, PC today.