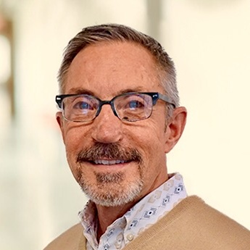 Cision VP of Marketing, Nick Bell discussed how to break down the silos between PR and marketing at PRNews Digital PR + Marketing Summit
CHICAGO (PRWEB) October 20, 2017
Public relations should be an integral part of any company's go-to-market strategy and, in many cases, should lead the marketing charge, according to Nick Bell, Vice President of Marketing Communications and Content for Cision, Ltd. Bell delivered his speech on PR and marketing integration Thursday, October 19 at the PRNews Digital PR + Marketing Summit in Miami Beach.
Bell was joined by Anna Lingeris from The Hershey Company where they discussed and answered questions around how to break down the silos between PR and marketing. The session examined the relationship of PR and marketing from both a B2B and B2C perspective, using their organizations as examples along with relevant case studies.
Attendees learned:

What it really takes for PR and marketing to achieve mutual understanding and respect
How PR and marketing can develop overlapping goals for digital initiatives
How to develop KPIs that encompass both marketing and PR initiatives
How to structure an integrated team that's optimized for today's communications landscape
With more than 20 years of technology marketing experience, Bell has held executive-level positions with marketing technology firms including Oracle Marketing Cloud, Eloqua and Adobe. Nick has a proven track record of developing award-winning and ROI-based marketing programs, media relations, and brand strategies.
About Cision
Cision Ltd. (NYSE: CISN) is a leading global provider of earned media software and services to public relations and marketing communications professionals. Cision's software allows users to identify key influencers, craft and distribute strategic content, and measure meaningful impact. Cision has over 3,000 employees with offices in 15 countries throughout the Americas, EMEA, and APAC. For more information about its award-winning products and services, including the Cision® Communications Cloud®, visit http://www.cision.com and follow Cision on Twitter @Cision.