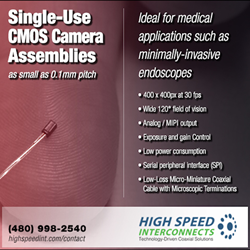 Leaders in Single-Time Use Imaging Medical Devices
SCOTTSDALE, Ariz. (PRWEB) November 01, 2017
High Speed Interconnects, LLC (HSI), a leading extruder and manufacturer of coaxial cable technology, alongside with OmniVision Technologies, Inc., a leading developer of advanced digital imaging solutions, continue to execute their collaboration to solve a myriad of image-capture and transmission challenges across a broad range of endoscope's, catheter and guide-wire based applications. Expanding their relationship, HSI and Omnivision are delivering turnkey imaging solutions based on HSI's cable technology and OmniVision's OV6946, OV6948 image sensors, wafer-level lens, and back-end image signal processor.
Industry analysts are reporting the demand for minimally invasive medical procedures enabled by endoscope, catheter or guide-wire based devices is growing rapidly, driven by multiple socioeconomic factors such as increasing health care expenses, hospital-acquired infections (HAI), an aging population and the rise of the middle class in the developing world. Consequently, hospitals are actively investing in endoscopic, catheter and guide-wire technologies. Additionally, growing concerns about cross-contamination and HAIs caused by reusable endoscopes are driving the need for cost-effective, single-use, endoscopes, catheter and guide-wire based solutions, according to industry reports.
Ensuring an endoscope, catheter, or guide-wire delivers top quality images requires capturing the images with a best-in-class sensor, then transmitting the signal (and power) via a micro-miniature cable from the distal-tip to proximal-end. HSI's highly-engineered cable must be capable of transmiting images over both analog and MIPI interfaces, then be precisely terminated to fine-pitch Omnivision image sensor pad's. Despite of length, the imaging solution must withstand insertion loss, noise, cross-talk - plus be small enough to fit inside the inner diameter of an endoscope, catheter or guide-wire while being sufficiently cost-effective for any single-use medical device application.
"The engineering expertise of top-tier innovators is essential in meeting the key requirements for high performance, small diameter disposable endoscopes," said Tehzeeb Gunja, senior product marketing and business development manager at OmniVision. "HSI has considerable expertise with its unique extrusion, applied materials, and termination technology platforms to deliver such a wiring subsystem, which couples perfectly with OmniVision's OV6946 and OV6948 image sensors. Together, we believe we can offer high volume, cost-effective solutions that can meet medical device manufacturers' stringent imaging and cabling expectations."
"Leveraging our highly-engineered coaxial cable extrusion and manufacturing capabilities in Portland, Oregon, and a low-cost country assembly operation in Hermosillo, Mexico, enables us to address customer expectations from product development to mass production," said Antonio De La Rosa, Founder, CEO and Manager of HSI. "We are delighted to be strategically engaged with OmniVision to deliver cost-effective, high-performance image-capture assembly solutions that allow medical device manufacturers to develop single-use devices for a growing medical market."
High Speed Interconnects will be showcasing a wide range of imaging sensor assemblies at booth 2253 during MD&M Minneapolis, November 8-9, 2017.