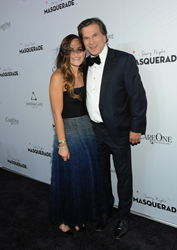 FORT LEE, N.J. (PRWEB) October 20, 2017
CareOne, a premier family-owned healthcare company with more than 30 centers in New Jersey, today announced its "Starry Night Masquerade" event raised more than $4 million in support of hurricane-relief efforts in Puerto Rico. The October-19 charity fundraiser was held at the Skylight Clarkson North in New York City and was in partnership with CareOne's sister company InnovaCare.
One of many recovery efforts CareOne has initiated since Hurricane Maria struck Puerto Rico, "Starry Night Masquerade" was spearheaded by CareOne President and CEO Daniel E. Straus and Executive Vice President Elizabeth Straus. The event speaks to the culture of philanthropy that is engrained in CareOne as a company.
"Starry Night Masquerade" was a star-studded evening that included celebrity guests like NFL players Victor Cruz, Jason Pierre-Paul and many NFL alumni, recording artists Pitbull and JoJo, and models and actresses like Danielle Brooks from "Orange is the New Black" and Joan Smalls.
"Starry Night Masquerade" comes in the wake of CareOne's recent October-11 mission to Puerto Rico with New Jersey healthcare leaders and physicians from RWJBarnabas Health. The trip was underwritten by CareOne and the company's Chief Strategy Officer, Tim Hodges, visited hospitals and spoke with physicians and patients on the ground to evaluate how best to address the immediate needs of the island's medical community.
Following CareOne's recent trip to Puerto Rico and the October-19 "Starry Night Masquerade", the company is continuing its relief planning and is in the process of scheduling follow-up trips to Puerto Rico in the coming weeks and months. In the interim, its on-the-ground team associated with CareOne's two facilities on the island will continue working to ensure the proper dissemination of supplies to medical facilities, as well as transporting patients in need from Puerto Rico to New Jersey.
About CareOne
With services that include post-hospital care, rehabilitation, assisted living, long-term care and a variety of clinical specialty programs, CareOne offers compassionate care in gracious, professionally managed centers and communities. CareOne serves thousands of patients every day and admits and discharges more than 20,000 patients every year. With more than 30 centers in New Jersey, CareOne's outstanding programs and services are conveniently located throughout the state. Interested parties can engage with CareOne on social media by following @CareOneMgt on Twitter,@careonemgt on Instagram, and CareOne Management, LLC on Facebook and LinkedIn. For more information about CareOne, please visit http://www.care-one.com.