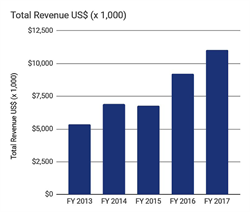 The industry is growing, and we're excited to be part of it. Autonomous vehicles are poised to explode and we're prepared to drive the industry forward.
LA JOLLA, Calif. (PRWEB) October 23, 2017
Altium announced today that its TASKING division, headquartered in Munich, Germany, reported revenues of $11.7 million, representing growth of 18% for the fiscal year ending June 30, 2017. In addition to record revenue performance, TASKING acquired a record number of new customers, achieved ASPICE Level 2 certification, and introduced four new products to complement its highly successful TASKING VX Compiler Toolset.
TASKING® designs and sells embedded software development tools for a variety of processor platforms. Primary growth over the last several years has been in the extensive toolset for the InfineonTM TriCoreTM and AURIXTM multicore processors, targeted at automotive, agriculture, and industrial automation markets. Applications include automotive control systems, advanced driver assistance systems (ADAS), drive-train control, and autonomous driving functions.
"We are very pleased with our financial results for FY 2017 and are seeing continued growth into our new year. Our continuing relationship with Infineon led us to co-develop new products that will further benefit TriCore/AURIX users," commented Franz Maidl, Director Global TASKING Business.
"Given the rise in complex, smart systems using multi-core processors, embedded software developers are faced with the challenge of reliably developing safety critical applications for automotive, agriculture, and industrial automation,. Embedded systems developers need a fast, robust compiler and development tool solutions to fully exploit the hardware capabilities and produce high-quality and safe code," added Maidl.
Automotive SPICE Certification
In March, TASKING received ASPICE Level 2 certification for the TASKING Toolset for TriCore/AURIX. This achievement signifies the standard of product development process that TASKING applies to provide quality, reliable products and continues the commitment to customers to help them produce high quality results in safety-related projects. This accreditation further substantiates the capabilities and proficiency that TASKING provides for safe and reliable automotive solutions.
"Our partnership with TASKING has a successful history in jointly addressing our automotive and industrial customers," said Peter Schaefer, Vice President and General Manager Microcontrollers at Infineon Technologies at the time of the release. "The successful Automotive SPICE audit is an important step for TASKING to continue offering robust solutions for the global automotive and industrial market."
New Product Introductions
During Altium's 2017 fiscal year, three new products were introduced, the TASKING Embedded Debugger, TASKING LAPACK Performance Libraries, and the TASKING Safety Checker. The debugger is a streamlined product that allows it to be licensed by itself instead of bundled with a compiler. Its price point allows companies to literally put a debugger on every developer's desktop. The performance libraries provide access to the Linear Algebra PACKage (LAPACK) a quasi-standard for intense data manipulation such as used in automotive applications. The Safety Checker allows developers to validate that there are no incursions into protected memory by unauthorized segments of code.
A fourth new product was released in September 2017, the TASKING Embedded Profiler. This intelligent profiler was developed in partnership with Infineon and includes expert knowledge of the TriCore and AURIX processors. This allows even non-experts to find performance issues and the tool then suggests how to fix the code to improve performance, saving developers a significant amount of time.
"We have been jointly working with TASKING on this new Embedded Profiler and it's a great tool to easily identify and implement code changes which improve performance on our AURIX hardware — without the need to have all the expert know-how of the hardware itself," explained Ralf Ködel, Marketing Director Industrial and Automotive Microcontroller at Infineon Technologies, "It will be of great benefit especially in today's challenging ADAS projects."
Into the Future
The new product introductions by both TASKING and Infineon have them prepared for the safe future of transportation. "The industry is growing, and we're excited to be part of it," concluded Maidl. "Autonomous vehicles are poised to explode and we're prepared to drive the industry forward."
About TASKING
TASKING is an Altium brand. TASKING development tools are used by carmakers and the world's largest automotive Tier-1 suppliers to develop embedded microcontroller based power train, body control and ADAS related applications around the globe. More than ten thousand users rely on the TASKING development tools to create richer next-generation applications while achieving optimum reliability, security, and performance. In 2017 the TASKING brand celebrates its 40th anniversary of technology leadership, quality tools and customer support excellence.
About Altium
Altium LLC (ASX:ALU) is a multinational software corporation headquartered in San Diego, California, that focuses on electronics design systems for 3D PCB design and embedded system development. Altium products are found everywhere from world leading electronic design teams to the grassroots electronic design community.
With a unique range of technologies Altium helps organisations and design communities to innovate, collaborate and create connected products while remaining on-time and on-budget. Products provided are ACTIVEBOM®, ActiveRoute®, Altium Designer®, Altium Vault®, Autotrax®, Camtastic®, Ciiva™, CIIVA SMARTPARTS®, CircuitMaker®, CircuitStudio®, Codemaker™, Common Parts Library™, Draftsman®, DXP™, Easytrax®, NanoBoard®, NATIVE 3D™, OCTOMYZE®, Octopart®, P-CAD®, PCBWORKS®, PDN Analyzer™, Protel®, Situs®, SmartParts™ and the TASKING® range of embedded software compilers.
Founded in 1985, Altium has offices worldwide, with US locations in San Diego, Boston and New York City, European locations in Karlsruhe, Amersfoort, Kiev, Munich, Markelo and Zug, and Asia Pacific locations in Shanghai, Tokyo and Sydney. For more information, visit http://www.altium.com. You can also follow and engage with Altium via Facebook, Twitter, LinkedIn and YouTube.