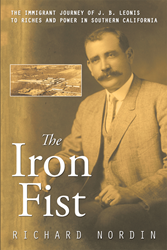 LOS ANGELES (PRWEB) October 23, 2017
An L.A.-based historian has released a book which recounts the life and times of famed immigrant J.B. Leonis. "The Iron Fist," by Richard Nordin, is an autobiographical telling of Leonis' rags to riches story of coming to America.
In 'Fist,' Nordin chronicles several crucial points in Leonis' life, from arriving to California to starting the city of Vernon from the ground up. After receiving a letter from his uncle in California, urging Leonis to join him, he quickly agrees and from there, his life forever changes. With his book, Nordin hopes people will be inspired by a classic American immigrant story and encouraged not to let what people think of them get in the way of who they are.
After working with the Leonis' family, who had approached him to write their family history, Nordin became inspired to share Leonis' story on a broader scale. "I had written a few speeches for J.B.'s grandson and the family really liked my writing style," said Nordin. "I let them know I wanted to write a book but only if the dirt was in it. It had to be both honest and do justice to the man I was writing about."
A powerful telling of a rags to riches story told by a historian with vast knowledge on the subject, "The Iron Fist" will inspire readers to learn more about the history of Los Angeles as well as the history around them.
"The Iron Fist: The Immigrant Journey of J.B. Leonis to Riches and Power in Southern California"
By Richard Nordin
ISBN: 978-1-5245-7045-3 (softcover); 978-1-5245-7044-6 (hardcover); ISBN (electronic)
Available at the Xlibris Online Bookstore, Amazon and Barnes & Noble
About the author
Richard Nordin is an author and historian for the L.A. Chamber of Commerce currently living in Los Angeles. He has worked with some of the oldest, most history-filled families of the area.
Review Copies & Interview Requests:
LAVIDGE – Phoenix
Lauren Dickerson
480-998-2600 x 601
Ldickerson(at)Lavidge(dot)com