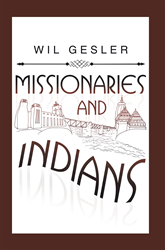 CUMBRIA, ENGLAND (PRWEB) October 23, 2017
Author Wil Gesler, an accomplished and now retired academic who specialized in Human Geography and wrote numerous scholarly books and articles, has published his first fiction book, "Missionaries and Indians" based on experiences from his youth and travels.
"Missionaries and Indians" is a coming of age picaresque novel filled with action, adventure and humorous stories as seen through the eyes of 16-year-old narrator Ben along with his twin sister Naomi. Born and raised in India as the son of Lutheran missionaries, Gesler experienced various cultures around the world and was inspired to share his stories in his fictionalized memoir.
Themes of tolerance and intolerance are explored in the various relationships presented in the book such as those between missionaries and Indians, children and their parents, servants and masters, religious beliefs and more. The characters also experience events such as a cyclone and devastating floods, being caught up in a political riot, becoming a fantasy spy, hunting a man-eating tiger, and the consequences of killing a monkey.
"Admirably, the narrator is neither a zealot who champions his parents' beliefs nor a cynic who questions their sincerity. Rather, he fills the role of reporter, giving readers the space to form their own opinions." – Foreword Clarion Review
To learn more please visit: http://www.missionariesandindians.com
"Missionaries and Indians"
By Wil Gesler
ISBN: 9781524680251
Available at Amazon, Barnes & Noble, and the AuthorHouse Bookstore
About the author
Wil Gesler was born in India of missionary parents during the Second World War and was educated there through high school at a school for missionary children. He spent most of his working life as an academic human geographer at the University of North Carolina, Chapel Hill. Since his retirement, he has lived with his wife in England, most recently at the edge of the Lake District.
For Review Copies & General Inquiries Contact:
LAVIDGE – Phoenix
Lauren Dickerson
ldickerson(at)lavidge(dot)com
480-998-2600