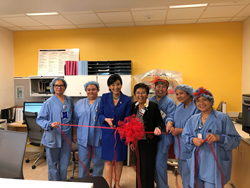 Los Angeles, CA (PRWEB) October 20, 2017
After 65 years of giving children and families the specialized medical care they need, Shriners Hospitals for Children – Los Angeles has closed and has opened a new state-of-the-art medical center located in Pasadena, CA. Shriner for Children Medical Center is one of the first facilities in the Shriners Hospitals for Children network to be created specifically to meet the rigorous demands of our rapidly-changing health care system.
On October 19, 2017 Administrator Lou Lazatin, Nurses, Surgeons and U.S. Congresswoman Judy Chu participated in the ribbon cutting ceremony of our Ambulatory Surgical Center (ASC) right before our first surgery case at the Medical Center. Our ASC has two state-of-the-art ambulatory surgical suites with 4 post-anesthesia care units. The entire pre and post op area is decorated with multicolor gumdrops that cover the entire ceiling to distract and minimize patient anxiety.
Katherine Au, M.D. who specializes in congenital and post-traumatic hand reconstruction performed the last surgery case at our Los Angeles location and was the first doctor to perform the first surgery here at the Medical Center. This successful surgical procedure was performed on a three year old patient, Sofia. Dr. Au's surgical procedure consisted of a left thumb polydactyly reconstruction. This procedure took Dr. Au no more than three hours to conclude. A Polydactyly of the thumb is common in all races, and about 20 percent of them occur bilaterally; Patients with polydactyly of the thumb show very diverse manifestations, from a rudimentary floating type to a complex one.
Sofia and Mom expressed how excited they were to be the first to be treated at the Medical Center's ASC. Mom, Mrs. Pillado, said, "My experience was great. The staff at Shriners for Children Medical Center is friendly and welcoming. The day before my daughter's surgery we were able to participate in an activity taking place outside the medical center. There were tons of kids and parents, all coloring, taking pictures and picking out Halloween costumes. This really helped ease my daughter's anxiety, even if it was just for a few minutes."
Our medical Center is built with that in mind. We specialize in pediatric care and our building is a clear indication of that. At Shriners for Children Medical Center our families are at the heart of our medical team.
About Shriners for Children Medical Center
Shriners for Children Medical Center specializes in orthopaedic conditions, prosthetics and orthotics, hand disorders, burn scars, and cleft lip and palate. Our facility encompasses a primary care clinic, ambulatory center and a rehabilitation clinic. We provide world-class care to children under 18 regardless of the families' ability to pay.
Shriners Hospitals for Children is a 501 © (3) nonprofit organization and relies on the generosity of donors. All donations are tax deductible to the fullest extent permitted by laws. For more information, please visit the hospital website at SHCLA.org.
###