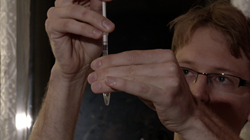 "Less than 1% of persons currently with HIV develop the type of immunity offered by N6," explained Aaron Traywick, CEO of Ascendance Biomedical. "The beauty of this technology is, essentially, that it can give the 99% the immunities we've so far only seen in the 1%."
WASHINGTON, D.C. (PRWEB) October 23, 2017
A community of "biohackers" have worked collaboratively with a biomedical research and development firm to develop a single-shot genetic therapy to treat and possibly cure HIV. On Tuesday, Tristan Roberts - a self-styled biohacker and independent researcher - chose to self-test the experimental compound on live broadcast. The compound was developed by Ascendance Biomedical, a firm developing the technology and others for large-scale clinical trials.
The therapy uses a plasmid—a circular piece of genetic information (DNA) common in nature to transfer genes between individuals and even species—to grant the recipient the ability to produce N6: an antibody that research shows has the capacity to destroy nearly all strains of HIV.
Recent advances in genetics technologies have made virus and plasmid-based "transfection" gene therapies very affordable. Unlike CRISPR, these therapies do not alter the patient's genome, but rather add genome-like structures to targeted fat cells. If successful, the total cost to manufacture the single-use treatment would be less than $50.
The gene to create the N6 antibody was discovered in a human. Individuals who carry the virus but whose immune systems keep the virus silenced are called "controllers" and have been well researched in pursuit of HIV treatments. 
The therapy modifies a patient's cells to produce N6. This is done by replicating the gene for N6 and inserting it into plasmids, which can be "transfected" into the patient's cells.  
The therapy is the result of a collaboration between independent researchers and Ascendance Biomedical, a research and development firm specializing in gene therapy-based treatments and clinical research. 
Ascendance Biomedical is currently launching Phase One clinical trials in South Africa and Brazil in February of 2018, while developing a blockchain-based, decentralized structure to promote public transparency for data collected during the trials. Enrollment for the trials is currently open at http://www.ascendance.io
As part of its agreement with Mr. Roberts, the company provided the experimental compound explicitly for research purposes only and not for human consumption.
Mr. Roberts has chosen to document the changes in his HIV viral loads and his experience with the technology on an ongoing basis from this site, with Facebook Live updates released each Tuesday at 6 PM EST.
A selection and full livestream of the livestream of the event can be viewed here.