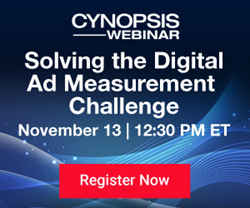 New York, NY (PRWEB) October 23, 2017
Cynopsis will host the November 13 webinar, Solving the Digital Ad Measurement Challenge, and will share perspectives, best practices, and goals for having a holistic media measurement ecosystem that gives every medium equitable value.
George Ivie, CEO & Executive Director for Media Rating Council, will moderate the discussion with speakers including Bill Tucker, EVP for the Association of National Advertisers (ANA); Louis Jones, EVP, Media & Data Practice for the American Association of Advertising Agencies (4 A's); and other key players representing the agency, advertiser and publisher sides.
The session will allow for real time Q&As to ensure specific questions are answered. During the interactive webinar, attendees will learn:

What are the key standards today and how they will impact your client campaigns
What you need to know and what you need to do to be ready for cross media measurement
The latest thinking in viewability standards – and beyond
Register your team today for the Cynopsis webinar, " Solving the Digital Ad Measurement Challenge."
All attendees will receive full access to speaker presentations for 1 year. Tuition is based on location, not number of participants, so each registration site can have multiple participants for one low price. Questions? Contact Trish Pihonak at [email protected]
About Cynopsis Media:
Cynopsis is what the TV industry reads first every day. The Cynopsis family of products includes the media industry's most-read daily, Cynopsis, plus sister dailies Cynopsis Digital and Cynopsis Sports; weekly eSports, the Cynopsis Jobs board and special reports. Serving TV, agency and brand professionals, Cynopsis Media produces conferences, webinars, and awards programs that are second to none. Find out more at cynopsis.com.