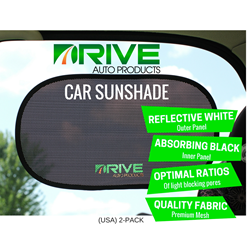 Ratio of light pass through for the ideal combination of driving visibility and privacy
New York, NY (PRWEB) October 23, 2017
Drive Auto Products, a leading manufacturer of auto accessories known for producing innovative designs, announced today the release of premium car window shades with a unique new thermal color pattern in the form of a cling sunshade. It uses a high-end PVC protective screen instead of thin mesh found in traditional shades that may not block significant amounts of sun damaging rays.
"This is a new innovation that we are able to arrive at through repeated trial and error, we've optimized a fabric blend that allows just the right amount color and light, which is where the magic happens." Says the spokesperson of Drive Auto Products, when talking about the features of this new product. "We've honed in on the ratio of light pass through for the ideal combination of driving visibility and privacy. You and your passengers can see, but onlookers and sunlight are screened out," He added.
Getting the best driving visibility and privacy is at the core of this shade while maintaining high driving safety standards. No one deserves to be restricted from the endless possibilities of a comfortable, safe ride and that is why Drive Auto Products comes with the new thermal color pattern cling sunshade, in a bid to give customers a redefined driving experience.
With the wealth of experience garnered over the years, Drive Auto Products has established themselves as one of the leading producers of premium car window shades. They are known for attention to detail in their products and this is evident with the invention of these new thermal color pattern cling sunshades. This product is two sided, where the outer white side's high-density PVC reflects the sun's rays. It is cool and dark from the inside, the softer black absorbs excess glare and heat, making the drive easier on the eyes. Reduces snow vision blindness.
For more information on how to get started, visit Drive Auto Products on the web.