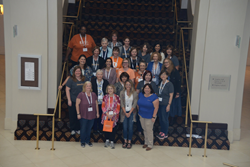 "Each year, our Institute grows and brings together a diverse and experienced group of women who show dedication to their health, as well as the health of other women." - Anna Norton, CEO
Raleigh, NC (PRWEB) October 23, 2017
Twenty-three peer leaders gathered on October 13, 2017 in Alexandria, VA for the 3rd annual DiabetesSisters Leadership Institute. The volunteers lead PODS (Part Of DiabetesSisters) Meetups in their communities each month, providing peer support, education, and encouragement for women with any type of diabetes or prediabetes in 20 different locations as well as a virtual/online meeting. Attendees traveled from Arizona, California, Colorado, Connecticut, Florida, Illinois, Massachusetts, Nevada, New Jersey, New York, North Carolina, Illinois, Ohio, Pennsylvania, Tennessee and Virginia.
The Institute expanded on the current skills of the PODS Leaders, providing them in-depth experiential training on group facilitation, communication, teambuilding, and peer support for women living with diabetes. Educational sessions at the Institute this year included: crafting and sharing our diabetes stories; building bridges based on our different identities including type of diabetes; yoga and diabetes; & best practices in small group facilitation.
"Each year, our Institute grows and brings together a diverse and experienced group of women who show dedication to their health, as well as the health of other women," said Anna Norton, CEO. "Our leaders consistently demonstrate dedication to DiabetesSisters, our mission and values, and are eager to learn more to bring to their communities, resulting in empowered and healthier women living with diabetes."
A DiabetesSisters signature program, the PODS Meetup Program started in Raleigh, NC, in 2010 and has grown to support over 30 monthly meetups in various locations throughout the United States, including one online. The program provides peer support, education and advocacy to women living with diabetes and prediabetes and serves more than 1,300 women annually.
DiabetesSisters recognizes and appreciates the Dexcom On Step Ahead Foundation, Boehringer Ingelheim-Lilly, Janssen Pharmaceuticals, Merck, and Novo Nordisk as sponsors of this year's Institute.
About the PODS Meetup Program:
Since 2010, the PODS (Part of DiabetesSisters) Meetup Program has offered monthly support to women living with any type of diabetes or prediabetes, providing a safe and nonjudgmental place to discuss the successes and challenges of living with diabetes. Led by women living with diabetes, the groups offer true peer support focused on women and diabetes. The PODS Meetup Program reaches more than 1,300 women annual in person and online. Women age 18 and over, living with any type of diabetes or prediabetes, are invited to attend PODS Meetups. For more information on local PODS Meetups near you, or starting a group in your community, please complete the PODS Meetup inquiry form at diabetessisters.org/form/pods-part-diabetessisters-signup-form.
About DiabetesSisters:
A 501(c)(3) nonprofit, DiabetesSisters is the only organization nationwide focusing exclusively on women living with diabetes. Our mission is to improve the health and quality of life of women living with and at risk of diabetes and to advocate on their behalf. DiabetesSisters has a 20,000+ member peer network that unites women with diabetes for the purpose of support, education and advocacy. Signature programs include monthly peer support meetings (PODS Meetups); the Minority Initiative Program; online blogs, forums, and expert resources; and conferences throughout the US. For more information, visit http://www.diabetessisters.org