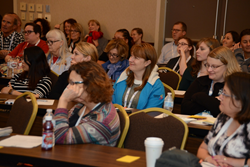 RALEIGH, N.C. (PRWEB) October 25, 2017
DiabetesSisters hosted its ninth Weekend for Women Conference on October 13-15, 2017, in Alexandria, VA. The program, presented by Dexcom and further supported by Abbott Diabetes Care, Boehringer Ingelheim, Janssen Pharmaceuticals, Lilly, Merck, Novo Nordisk, Omnipod and Roche, offered women the opportunity to gain knowledge, share experiences and transform their lives with diabetes.
The Conference, with over 150 attendees, partnered with The Diabetes Collective to expand programming and provided diabetes education and support in a safe, non-judgment environment. Professional speakers included Susan Weiner, MS, RDN, CDE, CDN, Gary Scheiner, MS, CDE, Rhonda Merwin, PhD, Nicole Bereolos, PhD, MPH, CDE and Angela Ford, PhD. Kerri Sparling, esteemed diabetes bloggers and speaker, spoke on behalf of Tandem Diabetes Care's Live Life in Full Color speaker series, while Shawn Shephear, motivational speaker, presented the final Keynote Session: Life is Sweet. The weekend agenda was designed to support, educate and empower women living with diabetes with sessions focusing on the pyscho-social aspect of living with chronic illness and also providing needed education on topics such as technology, pregnancy, anxiety and nutrition. Partners and caregivers of women living with diabetes were invited to a special educational track to learn more about chronic illness and how to better offer support.
"This Conference is revolutionary and has transformed thousands of lives since it's birth in 2010," said Anna Norton, CEO. "This year we welcomed many returning attendees and well as greeted new women into our Sisterhood. Our speakers provided relevant, up-to-date information and attendees left armed with more knowledge to manage diabetes better."
About DiabetesSisters:
A 501(c)(3) nonprofit, DiabetesSisters is the only organization nationwide focusing exclusively on women living with diabetes. Our mission is to improve the health and quality of life of women living with and at risk of developing diabetes and to advocate on their behalf. DiabetesSisters has a 20,000 member peer support network that united women with diabetes for the purpose of support, education, and advocacy. Signature programs include monthly peer support meetings (PODS Meetups); the Minority Initiative Program; online blogs, forums, and expert articles; and conferences throughout the US. For more information, visit http://www.diabetessisters.org