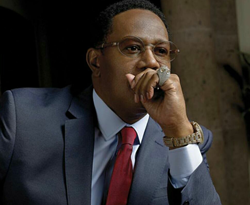 "Through Cinq, Master P will be an evangelist and connector, helping us sign more artists. He brings a wealth of experience and a deep artist network."
LOS ANGELES (PRWEB) October 24, 2017
Cinq Music, a technology-driven record label, distribution and rights-management company, has named Percy "Master P" Miller as President of Urban Music in the United States. The announcement was made by Cinq Music co-founder and President Barry Daffurn.
"Master P is an iconic artist/entrepreneur that will help Cinq and all its artists maximize the value of their intellectual property," says Daffurn. Adds Jason Peterson, CEO of GoDigital Media Group, Cinq's parent company, "Through Cinq, Master P will be an evangelist and connector, helping us sign more artists. He brings a wealth of experience and a deep artist network." Master P is no stranger to either Peterson or Daffurn. GoDigital Media Group was founded eleven years ago when Master P awarded Peterson a multi-year exclusive digital distribution deal for his music catalog. "He recognized a kindred entrepreneur and liked my vision that digital distribution of music was the future," says Peterson.
Master P is a businessman, entrepreneur, music mogul, an iconic American entertainer, producer and philanthropist. The founder of No Limit Records, Master P gained fame in the mid 1990s with hits like "Ice Cream Man" and "Make Em Say Uhh" along with roles in several independent films which made the artist a household name. As important as Master P's music success is, he has also had a successful career as an entrepreneur and investor, coming from poverty to Forbes. Master P created a multi-million dollar business empire spanning an array of industries and selling over seventy-five million albums to date. "Master P was one of the first rappers to see the real potential of music as a business," says Daffurn. "Many artists only concentrate on their creativity, but Master P saw his work through the eyes of an entrepreneur." The artist is held in high esteem by many artists for his entrepreneurial work ethic. In addition to his music, Master P dedicates his time in communities around the country through the P. Miller Youth Centers, Let the Kids Grow, Team Hope NOLA and P. Miller Food Foundation For The Homeless.
About Cinq:
Cinq Music is a technology driven record label, distribution, and rights management company. Cinq's repertoire has won four Grammy awards, dozens of Gold and Platinum RIAA certifications, numerous number one chart positions on the Latin Urban and Tropical Billboard charts, and was nominated for Latin Rhythm Label of The Year at the 2016 Latin Billboards. http://www.cinqmusic.com