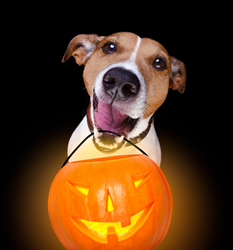 Halloween can be a fun night for the whole family ... but it takes a little extra planning and a few precautions.
WILTON, Conn. (PRWEB) October 25, 2017
Halloween can be a scary or even dangerous night for family pets. Strange creatures making scary noises come right to the family's front door, and pets may hide or even run away in fear. Pet parents must also be aware of potential dangers from candy, costumes and decorations.
"Halloween can be a fun night for the whole family, including the family pet. But it takes a little extra planning and a few precautions," says Heather Corum of at-home pet care services provider Canine Company (http://www.caninecompany.com).
Corum, who is certified in Pet CPR and First Aid, offers the following advice to keep family dogs and cats safe and happy on the spookiest night of the year:

Bring all pets indoors before sunset. Pets – especially black cats -- left alone outside may become the victims of tricksters on this night.
If the constantly ringing doorbell and children's shouts are upsetting to a pet, it's best to confine him to a room away from the activity. Turn on the TV or radio to help mask the other noises.
Leash the dog -- even in the house – so she can't dash out an open door. Dogs that are going trick-or-treating with the kids should be wearing identification tags and reflective gear in case they run off in pursuit of other children.
Be sure Jack-O-Lanterns and other decorations with candles are out of reach so they can't be knocked over by a wagging tail.
Keep candy away from pets. Chocolate and Xylitol, the artificial sweetener used in many candies, is toxic for dogs. Have favorite pet treats available to distract pets from candy.
Taking precautionary steps to keep pets safe and happy during the holiday will make it more enjoyable for every one -- including the pets.
About Canine Company
Born of a family's love for dogs, Canine Company provides at-home services to keep pets healthy, safe and happy including the Invisible Fence® brand system, Manners® dog obedience training, and mobile grooming and pet sitting in select markets. The company is based in Wilton, Connecticut. For information call 800-818-3647 or visit http://www.caninecompany.com.