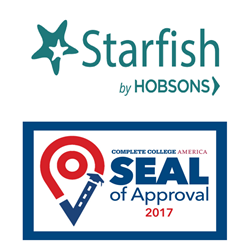 ARLINGTON, Va. (PRWEB) October 23, 2017
Complete College America (CCA) announced today that Starfish by Hobsons has won its 2017 Guided Pathways to Success (GPS) Seal of Approval. The Starfish Enterprise Success Platform, which employs data-driven interventions to help students thrive and succeed in college, was recognized for supporting the CCA completion agenda through academic planning, predictive analytics, tools for advisors, student engagement, and connections to career goals.
The GPS Seal of Approval honors software solutions that most effectively promote student success through fulfilling the standards established by CCA's Seal of Approval Advisory Board – a blue-ribbon panel of top technologists and higher education leaders.
"We are honored to be recognized by Complete College America," said Howard Bell, Hobsons Senior Vice President and General Manager of Starfish. "Our Guided Pathways work wouldn't be possible without the dedicated partner institutions that drive us every day to meaningfully impact student outcomes. With the Starfish platform, colleges and universities create dynamic environments that help students identify their paths and stay on track to completion."
The Starfish Enterprise Success Platform is the first fully-integrated enterprise product for students in higher education that offers advanced capabilities for in-depth academic advising, case management, and personalized degree-planning tools. The platform is integrated with the Predictive Analytics Reporting (PAR) Framework, which leverages institutions' own data to identify students at risk and intervene in realtime to keep students on course.
Starfish will be recognized at Complete College America's 2017 Annual Convening in New Orleans on November 30.
Starfish experts will host a free Webinar, "A Vision for Guided Pathways with Starfish by Hobsons," on December 7 at 3 p.m. ET/12 p.m. PT, where they will showcase a community college student's journey through a technology-enabled approach to Guided Pathways. Click here to learn more and to register.
To learn more about Starfish, visit http://www.starfishsolutions.com.
About Starfish by Hobsons
The Starfish Enterprise Success Platform helps hundreds of colleges and universities efficiently scale their student success programs so that more students can achieve their academic and life goals. Starfish supports millions of students each term, using its analytics solution to identify at-risk students in real-time, pinpoint areas of concern, and connect students with valuable services. It also helps higher education institutions use reliable, actionable data to assess which services and interventions are working to keep students on track.
About Hobsons
A global leader in education technology, Hobsons helps students to identify their strengths, explore careers, create academic plans, match to best-fit educational opportunities, and reach their education and life goals. More than 12,000 K-12 and higher education institutions partner with Hobsons and leverage our solutions -- Naviance, Intersect, and Starfish -- to improve college and career readiness, holistic college admissions, and higher education student success for millions of students around the world.