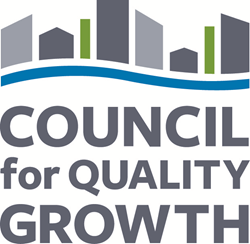 Tad Leithead's leadership within the region's first CID – the Cumberland CID - has been instrumental in stimulating growth in the region. We are so pleased to honor him with this award.
ATLANTA (PRWEB) October 23, 2017
The Council for Quality Growth announces its second annual John Williams CID Leadership Award recipient, Cumberland Community Improvement District (CID) Chairman Tad Leithead. The award recognizes those who have played an instrumental role in championing CIDs around the Metro Atlanta region through their vision, leadership and dedication, and will be presented on Nov. 1, 2017 at the Council's 8th annual CID Reception at the new Mercedes-Benz Stadium.
Leithead's leadership of the Cumberland CID, formed in 1988 as a self-taxing group of commercial property owners, has supported the organization in leveraging nearly $180 million in local dollars into an estimated $2.5 billion in constructed projects for improvements in the Cumberland area, and was instrumental in facilitating the selection of the area for the new SunTrust Stadium. Leithead has worked tirelessly around the region contributing his knowledge and experience to the formation of number CID's and TMA's. Leithead also serves on the boards and has been an integral part of the success of both the Perimeter and North Fulton CIDs as well.
Prior to Leithead forming his own governmental relations, entitlement, and consulting firm, he was responsible for leading Cousins Properties development efforts as they relate to entitlement issues throughout the Atlanta region. Also, Leithead previously served two terms as the Atlanta Regional Commission's Chairman. He has 28 years of experience in the Atlanta commercial and real estate market and has leased some five million square feet of office and retail space.
"The Atlanta area has experienced tremendous growth and development as a result of CIDs spurring development," said Council for Quality Growth President Michael Paris. "Tad Leithead's leadership within the region's first CID – the Cumberland CID - has been instrumental in stimulating growth in the region. We are so pleased to honor him with this award."
Since 1984 when state legislation was passed to allow for the creation of the first CID - Cumberland CID - 26 more have formed around the region with additional plans underway. In the more than 30 years since these new drivers of economic developments were launched, regional CIDs have come to represent more than $1.5 billion in taxes levied, producing more than $5 billion in infrastructure investments, new parks and greenspace, public safety, traffic mitigation projects, and landscape improvements. These projects are dramatically changing our region by helping to foster a sense of community and improve the overall quality of life and connectivity in Metro Atlanta.
Major corporations have taken notice of the impact of CIDs, and NCR, Mercedes, World Pay, State Farm, the Atlanta Braves, the Home Depot, and many others have specifically chosen to locate or expand within CIDs, creating new jobs in these communities that are the catalyst for further economic growth and a stronger tax base.
About the Council for Quality Growth
The Council for Quality Growth is a 32-year-old trade organization that works to ensure continued growth and economic success for generations to come by providing advocacy, information and education to its members. Committed to the mission of promoting balanced and responsible growth, the Council is proactively involved in the formulation of policy and legislation critical to the growth and development industry. The Council addresses, head-on, strategic economic planning, infrastructure needs and tough quality-of-life issues throughout the metro Atlanta region and state. http://www.councilforqualitygrowth.org.