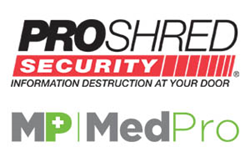 We will provide a holistic solution to our customers and will bring the peace of mind they are looking for and should be demanding from their partners, stated Jeff Hasham, CEO of PROSHRED® Security
CHARLOTTE, N.C. (PRWEB) October 24, 2017
PROSHRED® Security is proud to announce their newest partnership with MedPro Waste Disposal – the largest privately owned medical waste disposal company. Together PROSHRED® and MedPro will provide the best-in-class client services for medical waste disposal and information destruction. "This strategic partnership between our two companies provides an opportunity to consolidate our position in the health industry as well as it allows both companies to expand their line of services," stated Jeff Hasham, CEO of PROSHRED® Security.
George Shanine, CEO of MedPro stated: "It's our mission to provide the services, tools, and resources that enable our customers to better manage and operate their medical practices while keeping their patients and community safe. This partnership allows us to provide our customers with, what we believe, to be the safest and most secure solution to protect the privacy of their patients."
MedPro Disposal and PROSHRED® Security's partnership will ensure that both companies provide customers with reliable services while still guaranteeing the security and compliance they require. "This partnership will enable our healthcare customers and the broader healthcare industry the opportunity to leverage the resources of MedPro and PROSHRED® Security. We will provide a holistic solution to our customers and will bring the peace of mind they are looking for and should be demanding from their partners," stated Jeff Hasham, CEO of PROSHRED® Security.
About MedPro Disposal
Founded in 2009 out of a need to provide customers with the best prices for medical waste disposal, MedPro maintains a low-cost alternative for regulated medical waste services, pharmaceutical disposal, and compliance solutions. Operating in 46 of the 50 states, MedPro provides the best-in-class client services through managing the pick-up, transportation, treatment, and disposal services for regulated medical waste, biohazard waste, sharps, and pharmaceuticals (RX). MedPro believes that customers should never be overpaying for a required service. To learn more about MedPro Disposal please call +1-888-641-6131 or visit http://www.medprodisposal.com
About PROSHRED® Security
With over 30 years of experience, PROSHRED® provides the most secure, convenient, and cost-effective methods for destroying and recycling documents and other materials. Servicing 37 metropolitan markets across the United States, PROSHRED®'s fleet of over 120 trucks provides customers with a mobile on-site destruction service. Through legislative compliance, personal privacy, and information security, businesses and consumers have trusted PROSHRED® Security to get the job done! Please visit http://www.proshred.com or call 1-87-PROSHRED (+1-877-767-4733) to learn more about their pricing and services.