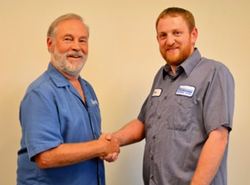 Merging Boulder Import Motors with Independent Motors was the best way to carry on my father's legacy.
BOULDER, Colo. (PRWEB) October 26, 2017
You can make Independent Motors your one-stop auto repair shop in Boulder for all domestic, German and Asian auto repair needs and tires.
Independent Motors and Boulder Import Motors have merged to create Boulder's "go-to" auto repair shop for owners of all domestic and nearly all imported vehicles, trucks and SUVs including Subaru, Mitsubishi, Ford, Jeep, Chevy, VW, Audi, Lexus, Toyota, Nissan, Infiniti and Honda.
Boulder Import Motors has served the Boulder community since they unveiled their services in the late 1960's. When owner Jerry Mueller died this summer, his son Drew wanted to honor the family business and continue to serve their customers with the same honest, personalized auto repair service they've always had. Mueller says, "I did a lot of due diligence before choosing to partner with Independent Motors, and I know I made the right choice. Merging Boulder Import Motors with Independent Motors was the best way to carry on my father's legacy. He would be proud."
Independent Motors has been a leading auto repair shop in Boulder since the early 1980's. Drew joins their staff of highly-trained professional technicians, auto parts specialists and service writers in their state-of-the-art new building on East Arapahoe.
The companies bring together many decades of experience and great reputation for their commitment to superior customer service and expert auto repairs and maintenance at competitive prices. Vehicle owners have long-relied on both auto repair shops. Their growth and success is testimony to their professionalism and stellar service. Their customers include Boulder residents, commuters and University of Colorado students who rely on their wheels for getting around the city, highways and mountains in safety.
Bill Bender, founder and owner of Independent Motors, says, "Drew's honesty and integrity is a perfect fit for us. He brings many years of experience with Mitsubishi, Subaru, and Toyota. And Boulder Import Motors customers couldn't be nicer people. We are very fortunate to have Drew join us, and we're excited to serve even more vehicle owners here in Boulder."
Mueller echoes Bender's view and knows the alliance will continue his family's legacy of providing excellent auto repair service to the Boulder community for years to come.
ABOUT INDEPENDENT MOTORS
Independent Motors has been an active part of the local business community since 1983. They are an honest, cost-competitive auto repair shop that values community and the environment. These traits are the cornerstones of their business. Over the years they've come to serve second and third generations of vehicle owners, making them a family tradition. The owner, Bill Bender, often drops off and picks up customers in the company shuttle car. Skilled mechanics and master technicians bring years of experience and the best in auto repair technology to the table. And their state-of-the-art new auto repair shop is second to none. With the addition of Boulder Import Motors, they are truly your one-stop shop for all things auto repair and tires.
Visit them online today: https://independentmotors.net or call (303) 449-8949.
For media interviews, contact Bill Bender at (303) 449-8949.