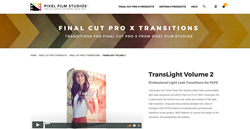 TransLight Volume 2 is a set of light leak transitions for FCPX Users.
ALISO VIEJO, Calif. (PRWEB) October 24, 2017
TransLight Volume 2 from Pixel Film Studios offers fully customizable light leak transitions all within Final Cut Pro X. With TransLight Volume 2 users have full control over hue, scale and rotation of the light leak transition. Drag and drop presets between two clips of footage in the FCPX timeline to instantly add a professional transition to any project. With freedom to control the length of the transition, the possibilities are endless.
TransLight Volume 2 offers 30 fully customizable light leak transitions that are easy to use, all within Final Cut Pro X. Create smooth seamless transitions for any type of media, whether you are looking to enhance footage from a fun night at the club with friends or creating an elegant video.
With TransLight Volume 2 users are given several different styles of presets, all fully customizable with infinite possibilities. With TransLight Volume 2 it is as easy as dragging and dropping the transitions between two clips on the FCPX timeline. Further customize the transitions by simply extending or shortening the transition on the timeline and adjusting simple sliders all within FCPX.
TransLight Volume 2 was professionally designed to work seamlessly inside of Final Cut Pro X. As a FCPX transition each TransLight preset can be dragged and dropped onto the user's footage. With the published parameters found in the FCPX inspector, users have the ability to make adjustments and generate their own transition effect with just a few clicks of a mouse.
Established in 2006, Aliso Viejo, California-based Pixel Film Studios is an innovative developer of visual effects tools for the post-production and broadcast community. Their products are integrated with popular non-linear editing and compositing products from Apple FCPX. Apple, the Apple logo, Mac OS X, and Macintosh are registered trademarks of Apple Inc. in the U.S. and/or other countries. All other trademarks and trade names are the property of their respective owners.