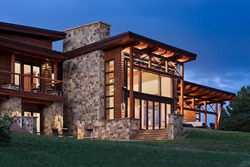 These awards reflect the talent and dedication of our world class designers, as we continue to exceed our clients' expectations with beautiful designs that define PrecisionCraft as the leader of our industry
MERIDIAN, Idaho (PRWEB) October 24, 2017
Custom home builder PrecisionCraft Log & Timber Homes received multiple awards during the 2018 Jerry Rouleau Awards for Excellence in Marketing and Home Design presented by the Building Systems Councils (BSC), part of the National Association of Home Builders (NAHB). The awards were handed out on Oct. 10, 2017, during the BSC's "2017 Building Systems Housing Summit" the only national conference and educational event focused exclusively on the systems-built industry.
For more than a decade, the BSC's awards program has promoted excellence in systems-built housing. Front runners in the industry are honored at the annual awards presentation for their innovative marketing strategies and unique designs.
PrecisionCraft won two, first place awards and one entry of distinction for their architectural design of mountain style homes produced for clients across the United States.
The awards presented to PrecisionCraft this year included:

"These awards reflect the talent and dedication of our world class designers, as we continue to exceed our clients' expectations with beautiful designs that define PrecisionCraft as the leader of our industry," said President James Banner.
The annual Jerry Rouleau Awards for Excellence are judged by an independent panel of industry experts. For a complete list of award winning companies, as well as winners and projects from previous years' competitions, visit the BSC's website.
####
ABOUT PrecisionCraft: PrecisionCraft Log & Timber Homes and M.T.N Design are the premier designer and producer of mountain style homes. Producing homes for clients across the US, Canada, and internationally. PrecisionCraft is part of PFB Custom Homes Group, LLC which includes additional brands, Riverbend Timber Framing, TimberScape and Point Zero Homes. Visit http://www.precisioncraft.com to learn more.
ABOUT THE BSC: The Building Systems Councils of the National Association of Home Builders is made up of manufacturer, builder, and associate members who advocate building with concrete, log, modular, or panelized systems. Systems-built homes are constructed to the same code standards and reflect the same, and often enhanced, quality levels as any site-built construction. The advantage of systems-building is it's done in a fraction of the time, with a fraction of the waste, which can significantly reduce costs. Many systems-built homes also are inherently environmentally friendly adding a "green" label to the finished home.
ABOUT NAHB: The National Association of Home Builders is a Washington-based trade association representing more than 140,000 members involved in home building, remodeling, multifamily construction, property management, subcontracting, design, housing finance, building product manufacturing and other aspects of residential and light commercial construction. NAHB is affiliated with 800 state and local home builders associations around the country. NAHB's builder members will construct about 80 percent of the new housing units projected for this year.