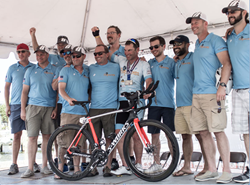 We are grateful for the many organizations and people who helped us to achieve this ambitious goal, said Forkas. Hopecam now has a platform to reach more children, hospitals and schools across the country to help healing and foster empathy.
RESTON, Va. (PRWEB) October 24, 2017
Hopecam, an organization dedicated to helping children battling cancer overcome social isolation during their treatment, celebrates reaching its $1 million fundraising goal to connect another 1,000 children to their friends at school. Since its founding in 2003, the organization has connected 1,350 children in 46 states.
The successful campaign was led by founder Len Forkas' participation in the Race Across America (RAAM), a grueling, 12-day, 3,089 mile bike race from San Diego, California to Annapolis, Maryland. Forkas dedicated each day of the race and 56 time stations along the route to children served by Hopecam. His second time completing the race, Forkas finished in 11 days, 21 hours and 35 minutes and won the competition's Lon Haldeman Award as the race's top fundraiser.
With tablet computers, web cameras and high-speed Internet, Hopecam provides the equipment and IT support to enable videoconferences for children with their classmates and teachers. Including students, teachers and family members, Hopecam is estimated to have impacted over 15,000 people with a program that can help healing for patients, lighten the burden for families and encourage empathy among classmates.
About Hopecam
Hopecam is a 501c3 organization that connects homebound children undergoing treatment for cancer, and other life-threatening illnesses with their friends at school using mobile tablets, high speed internet connections and web cameras. Recognizing the critical need for socialization, Hopecam seeks to bridge the lonely divide between homebound children and their friends at school during this frightening time. Staying connected to school significantly reduces the stress of re–entry when treatment is completed and children resume a normal life. Since its founding in 2003 by a parent whose child was diagnosed with leukemia, Hopecam has connected 1,350 children with their friends, classmates and families. For more information, visit http://www.hopecam.org