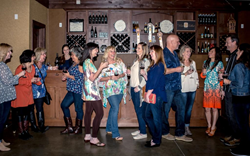 Temecula Valley, California (PRWEB) October 24, 2017
Nearly 200,000 acres of Sonoma, Napa, Lake, and Mendocino Counties have burned due to the devastating Wine Country fires that began on October 8, 2017. Dozens of lives and thousands of structures have been lost to the fires, with many individuals still missing. In addition to homes and businesses, many wineries have been affected by the fires, and the industry, as well as the region, will need a significant boost to return to its pre-fire status.
Temecula Valley joins fellow wine regions throughout the state of California to support relief efforts in the communities devastated by the recent fires. The popular hashtags #CAWineStrong and #OneWineCommunity signify the unity within the California wine industry.
Temecula Valley, specifically, has offered the following support during this tragic time:

Visit Temecula Valley Board of Directors unanimously voted this week to contribute $1500 dollars to the #CAWineStrong fire relief funds.
Temecula Valley Wine Growers Association, together with its members, will be contributing $5 per SIP Passport sold throughout the month of October to be disbursed equally to the #CAWineStrong fire relief funds.
Participating Temecula Valley wineries are donating proceeds from every bottle sold during the month of October to support relief efforts. Donating wineries include Callaway Vineyard & Winery, Cougar Vineyard & Winery, Doffo Winery, Europa Village, Lorimar Vineyards & Winery, Lorenzi Estate Vineyards & Winery, and South Coast Winery Resort & Spa.
Concerned citizens can visit http://www.CAWineStrong.com to see how they can help assist in the relief efforts taking place in affected counties.
About Visit Temecula Valley
With natural gifts of climate and geography Temecula Valley Southern California Wine Country is recognized for scenic vineyards, award-winning wines, and 40+ wineries. The popular, boutique destination includes the Temecula Valley A.V.A. (American Viticulture Area) as well as Historic Downtown Old Town Temecula, Pechanga Resort & Casino, and Temecula Wine Country Golf Trail.
Visit Temecula Valley is the region's official tourism marketing organization and an online resource for visitors at VisitTemeculaValley.com. Temecula Valley Visitors Center is located in Old Town Temecula (Third Street and Mercedes). For visitor information and assistance, call (888) 363-2852 or (951) 491-6085.
About the Temecula Valley Winegrowers Association:
Temecula Valley is the largest and most commercially successful winegrowing region in the South Coast AVA, the viticultural zone spanning more than 2 million acres from Riverside County to the San Diego border. The Temecula Valley Winegrowers Association has long served as a steward of the Southern California wine community. Comprising 35 wineries and more than 60 winegrowers, the Temecula Valley Winegrowers Association is a nonprofit regional organization dedicated to increasing awareness of the quality wines and wine grapes grown in the Temecula Valley and South Coast Appellations. Established in 1984, the Temecula AVA consists of 33,000 acres, of which approximately 1,300 acres are currently planted to commercial vineyards. Known as Southern California's wine country, the Temecula Valley is located in Riverside County just one hour from San Diego, Orange County and Palm Springs and 90 minutes from Los Angeles.