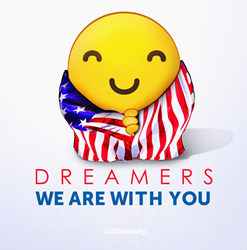 NEW YORK (PRWEB) October 24, 2017
GoDiversity, an independent, minority-owned multicultural advertising agency announced the release of a Dreamers emoji and social media badge, created by the agency to show support for the hundreds of thousands of people in the U.S. affected by the DACA program and DREAM Act, known as "Dreamers." The emoji features a smiling character wrapped in an American flag and is part of the #DreamersWeAreWithYou campaign.
"More than 800,000 young adults who came to America as children and made a life here now face deportation because of the impending repeal of the DACA program and DREAM Act," said Humberto Freydell, CEO of GoDiversity. "These people are a vital part of our communities and our country, and they deserve to continue working and living here without fear."
The Dreamers emoji is being paired with a call to action that encourages people to contact their elected officials about supporting Dreamers and their families.
Created in 2012, DACA, or the Deferred Action for Childhood Arrivals program, allowed people who came to the United States illegally as children to obtain legal work permits and a renewable two-year protection from deportation. The Trump administration rescinded the program in September. First introduced in 2001, the DREAM Act proposed a path to permanent residency for those brought to the U.S. as minors.
The emoji is available for download at dreamerswearewithyou.org/dreamers/. The website also offers a Dreamers social media badge for customizing profile and cover photos on Facebook and Twitter.
A thought leader for over 14 years in diversity marketing, GoDiversity provides clients with effective and memorable strategies and tactics to reach critically important and powerful minority markets. Learn more at http://www.godiversity.com.