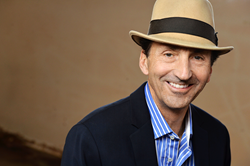 At Califia, we are on a mission to nourish and inspire the world with the wisdom of a plant-centric lifestyle. Our vision is to change the way the world does business by building a leading plant-based food and beverage company of the future, and we are honored to receive this recognition
LOS ANGELES (PRWEB) October 24, 2017
Goldman Sachs (NYSE: GS) recognized Greg Steltenpohl, Co-Founder and CEO of Califia Farms, as one of the 100 Most Intriguing Entrepreneurs of 2017 at its Builders + Innovators Summit in Santa Barbara, California.
Goldman Sachs selected Steltenpohl as one of 100 entrepreneurs from multiple industries to be honored at the two-day event. California-based Califia Farms is one of the U.S.' fastest growing natural beverage companies and has revolutionized plant-based beverages at the retail level. Its delicious, award-winning beverages and disruptive packaging have led it to become the number one natural nut milk brand (refrigerated), the number one natural cold brew coffee brand (refrigerated/RTD) and the fastest-growing non-dairy creamer brand.(1)
"At Califia, we are on a mission to nourish and inspire the world with the wisdom of a plant-centric lifestyle. Our vision is to change the way the world does business by building a leading plant-based food and beverage company of the future, and we are honored to receive this recognition from Goldman Sachs," said Steltenpohl. "The Builders + Innovators Summit fits our motto of 'something different - something better' and provided a great opportunity to meet with like-minded individuals, across a wide spectrum of industries, to share and discuss opportunities for positive change."
"We are pleased to recognize Greg Steltenpohl as one of the most intriguing entrepreneurs of 2017," said David M. Solomon, President and Co-Chief Operating Officer at Goldman Sachs. "This is the sixth year that we've hosted the Builders + Innovators Summit where emerging business leaders gather to discuss their common interests in building prosperous organizations."
For more than 145 years, Goldman Sachs has been advising and financing entrepreneurs as they launch and grow their businesses. In addition to honoring 100 entrepreneurs, the Summit consists of general sessions and clinics led by Goldman Sachs experts, seasoned entrepreneurs, academics and business leaders as well as resident scholars.
Califia Farms was also one of nine companies selected to be profiled in a series of videos produced by Goldman Sachs where honored entrepreneurs reflect on what they have learned about building innovative businesses. The videos were screened at the conference and are now available on their owned and social media channels, including gs.com and YouTube. The Califia Farms video was filmed at its state-of-the-art processing facility and distribution center in Bakersfield, CA as well as at its Headquarters, located in the Los Angeles historic Arts District downtown. In addition, footage was also filmed up the road from Califia's processing plant, at their main almond suppliers – Gardiner Farms and Treehouse California Almonds processing facility.
Steltenpohl has a 25-year history of creating future trends by inventing hundreds of unique beverages, while building great team cultures that challenge the status quo of the institutional food system with his innovations and commitment to sustainability. He continues his mission of sustainable nourishment at Califia Farms, which he founded in 2010, creating plant-powered foods that are both delicious and nutritious and driving retail adoption by millions of consumers with a significant positive impact on the environment.
About Califia Farms (pronounced "Cal-ah-FEE-ah" like California)
Inspired by Queen Califia, the mythical namesake of the state of California, Los Angeles-based Califia Farms was founded in 2010 and has become of the fastest-growing natural beverage companies in the U.S. Renowned for having the best-tasting plant-based beverages on the market artfully packaged in a disruptive curvy bottle, Califia has become the number one refrigerated nutmilk and refrigerated RTD coffee brand in the Natural and Specialty channels by creating innovative, healthy and great-tasting premium beverages that make it easy for consumers to go 'plant-powered' and live dairy-free, without compromise. Califia is on a mission to discover and share 'what plants can do' to help achieve whole body health and to encourage wider adoption of plant-based foods and beverages for the good of our planet.
Join the conversation with @CalifiaFarms on Facebook, Twitter, Instagram and Snapchat.
Califia Farms Media Relations
mWEBB Communications
Melanie Webber, (424) 603-4340, melanie(At)mwebbcom(dot)com
(1) Source: SPINS, 52 weeks ending 09.10.2017