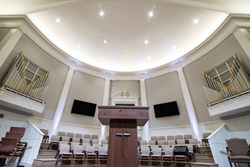 "The previously dim space has vastly improved in warmth due to the indirect light placed on the columns and cove lighting in the ceiling."
GREENWOOD, Miss. (PRWEB) October 25, 2017
New upgrades in the North Greenwood Baptist Church's Sanctuary transformed everything from interior finishes and furniture to state of the art LED lighting, including ELP's high performance Cove lights, to illuminate the results. This ever expanding property on Grand Boulevard has been home to its growing congregation since 1955. The design for the current refurbishing in the house of worship was crafted by local interior designer Katheryn King Coleman of Oxford, MS with the guidance of a select group of church members including Senior Pastor, Jim Philips and Associate Pastor, Brother Terry Barnes.
After completely gutting the interior of the Sanctuary, no surface remained untouched. New plaster, drywall and paint refreshed the structure in addition to wood flooring and carpet to complement new pews, furniture and design details. Paramount to the success of the project was replacing all lighting with fixtures utilizing current LED technology and adding a fully equipped theatrical lighting control system. According to Brother Terry Barnes, "The previously dim space has vastly improved in warmth due to the indirect light placed on the columns and cove lighting in the ceiling."
The lighting team, Bob Landry and Jill Bullard from Curtis Stout of Mississippi, collaborated with Brian Robinson of Robinson Electric Company of Cleveland, MS to design the system to illuminate the lively space and expansive ceiling. Jill Bullard recalled, "The existing cove of the sanctuary shouted the need for LED cove lighting and it did turn out perfectly. The space is full of light with a warm, inviting feeling." By replacing the fluorescent lighting in the coves with ELP's CLM LED Cove lights, higher light levels, longer lamp life and consistent color were attained while utilizing less electrical power. The CLM Series Cove lights are the smallest offered by ELP for short, narrow coves, yet still provide over 1280 lumens per linear foot.
ELP offers 4 families of cove lights to accommodate a multitude of coves with over 13 styles and 30 lamping options to customize each design. Each family was designed for separate distinctive cove applications and requirements. Designed to optimize lighting in the space, ELP's cove lights are not meant to simply accent an architectural detail. The highly efficient cove lights all provide a strong asymmetric throw of light into the space to provide usable lighting to the room below. Offered in 1', 2', 3', 4' and 8' length versions, these fixtures deliver a powerful lumen package for an impressive savings of wattage consumed. LED options utilize Osram/Sylvania Prevaled® LED modules that are 80+ CRI (90+ with 2700K) and rated greater than 60,000 hours of life. They are available in 2700K, 3000K, 3500K and 4000K to suit any design. Intelligent use of Cove lighting can provide viable lighting for Healthcare, Corridors, Schools, Cultural Centers, Commercial, Institutional, Office and Residential applications.
ELP also fabricates a cove system with nine decorative coves in the CLC Series. These wall mounted coves are castings of GRG (Glass fiber Reinforced Gypsum) composite material. The Cove system combines a continuous cast cove with an efficient lighting component. Integration of the lighting component and casting is designed for fast, easy installation and provides tremendous cost savings verses building a decorative cove on site in high labor areas.
According to the Department of Energy (DOE) website, "Solid-state lighting (SSL) technology has the potential to reduce U.S. lighting energy usage by nearly one-half and contribute significantly to our nation's climate change solutions." ELP is committed to be part of those solutions. Over the years, ELP has been granted several U.S. Patents for innovative fixture designs that provide superior answers for today's lighting challenges. The future is bright for this boutique lighting manufacturer as they continue to utilize new technology for developing more effective and efficient luminaires.
Those interested in additional information on this release or other ELP products can contact our helpful, LC certified design staff at 1-626-579-0943 or visit our website at http://www.elplighting.com.