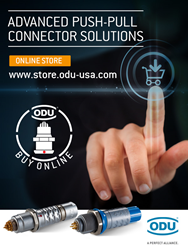 CAMARILLO, Calif. (PRWEB) October 24, 2017
ODU, a worldwide leader in designing and manufacturing high-performance connector solutions and cable assemblies is announcing its E-commerce Webstore launch.
ODU-USA is now offering online its ODU MINI-SNAP® and ODU MEDI-SNAP® Push-Pull circular connector portfolio available with a 48-hour turnaround time for a wide range of applications including: medical, military and security, industrial, test and measurement, energy and automotive.
Offering an extensive range of metal and plastic connector solutions tailored to customer specific requirements, the webstore's product configurator, technical comparison feature and live chat support provide an effortless purchase experience.
"ODU-USA's commitment is to provide the highest level of quality and customer satisfaction to all our customers," said Thomas Mittermeier, CEO and President of ODU-USA, Inc. "Developing an online webstore available 24/7 was naturally the next phase of providing a seamless experience from finding the right connector solution to ordering the product online and benefiting from it in a very short period of time".
ODU-USA Ecommerce webstore can be accessed by customers worldwide and can be found here: https://store.odu-usa.com/
About ODU Group:
The ODU Group is one of the world's leading suppliers of connector systems, employing 1,650 people around the world. In addition to its company headquarters in Mühldorf am Inn (Germany), ODU also has an international production and distribution network throughout Europe, North America and Asia. ODU combines all relevant areas of expertise and key technologies including design and development, machine tooling and special machine construction, injection, stamping, turning, surface technology, assembly and cable assembly. The ODU Group sells its products globally through its eight subsidiaries in Denmark, England, France, Italy, Sweden, the US, China and Japan, as well as through numerous international sales partners. ODU connectors ensure a reliable transmission of power, signals, data and media for a variety of demanding applications including medical technology, military and security, eMobility, energy, industrial electronics, and test and measurement.
For press inquiries, please contact:
Dana Stoica - Head of Marketing, North America
Phone +1 (805) 484-0540 Fax: +1 (805) 484-7458
Email: dana.stoica(at)odu-usa.com