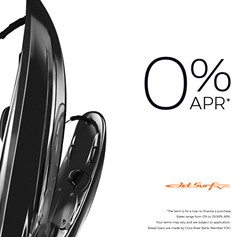 Surf Like Never Before!
NEW YORK (PRWEB) October 25, 2017
Surfers and others bummed out because they're short on cash to buy a JetSurf powered surfboard will now be able to easily get their hands on one and start experiencing the heart-pounding thrill of tearing up the water like never before thanks to a newly initiated financing program available through JetSurf US, the company today announced.
JetSurf US said the financing program is made possible by an exclusive arrangement negotiated with an esteemed lending institution.
The arrangement means qualifying JetSurf US customers can enjoy the rush of participating in the increasingly popular extreme sport of powered surfing for as little as zero money down upon approval of credit and satisfaction of applicable restrictions and conditions, JetSurf US said.
JetSurf US said purchasers can typically expect their finance package to include easy terms, such as low monthly payments extended over a leisurely stretch of time.
JetSurf Motorized Surfboards Start at $9,900
JetSurf US explained that its financing program is intended to allow people who want to own a powered surfboard acquire one without the burden of paying for it upfront and in full. This is important because powered surfboards cost appreciably more than conventional surfboards.
JetSurf US motorized surfboards retail starting at $9,900, while the top-of-the-line, highest-performance JetSurf US stick sells for $15,000, the company noted.
"These prices are reasonable for people who have plenty of disposable income, but not for those who make less money," said JetSurf US President "Since we started JetSurf US in 2008, we've been searching for ways to open up this awesome sport to more people. We realized that, for many, price has been a barrier to entry. So, we decided that one way we could knock down that barrier would be by letting people buy our motorized surfboards the same way they buy motorcycles and cars – with financing."
Previously, U.S. residents have been able to purchase motorized surfboards from JetSurf US using any of three payment methods: credit card, personal check, or wire transfer, the company indicated.
According to JetSurf US, customers wishing to finance a powered surfboard may do so by requesting from the company an official JetSurf US credit application. After completing and submitting the application, the request will be quickly processed. Approved customers will then begin to feel the unstoppable rush that comes from owning a JetSurf US motorized surfboard, company executive said.
Applications along with full details about the JetSurf financing program are http://www.JetSurfus.com.
Many Ways to Enjoy JetSurf's Powered Surfboards
JetSurf US is the premier designer and creator of motorized surfboards which allow riders to cut in and out of towering waves faster and more nimbly than would otherwise be possible, or to instead rocket across calm waters and execute extreme maneuvers ordinarily requiring moderate to large waves, the company said.
Purchasers of JetSurf US products put the powered surfboards to a variety of uses. These include casual fun and serious competition, such as that on tap at events like the Motosurf World Cup racing events.
JetSurf US motorized surfboards can hit a top speed of 36 mph on flat water – faster if skimming down the face of a big wave.
JetSurf US products purchased through the company's financing program come with a one-year warranty. An option to acquire an extended two-year warranty is also available.
For more information, contact:
JetSurf US
(212) 951-1171
info@JetSurfus.com
http://www.jetsurfus.com