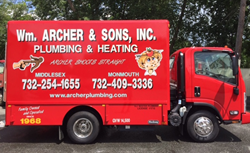 For almost 50 years, Archer has been shooting straight when it comes to plumbing and heating for Central Jersey residents.
OLD BRIDGE, N.J. (PRWEB) October 30, 2017
In an age where consumers are increasingly worried about who to trust in their home, one company stands out with its history of serving New Jersey's Middlesex and Monmouth counties with plumbing, heating, and water heater needs for almost 50 years.
William Archer established this family owned and operated business in 1968. Since then, his son, John, and his brother, Dave, have joined the family business as master plumbers, both holding their NJ Master Plumbing Licenses.
Over almost 50 years, Mr. Archer has continued his professional development by earning an NJ State H.H.S. Plumbing Inspector's License, along with the NJ Sub-Code and Construction Official Licenses. He continues to serve on a local municipal Construction Board of Appeals, a position he has held since 1992.
Besides highly-trained employees, one of the most unique and recognizable aspects of William Archer & Sons is their personally designed and customized fleet of fully-stocked vehicles. As virtual "moving warehouses," they allow the company to handle jobs promptly, efficiently, and on the spot, day or night.
William Archer & Sons boasts one of the best records in the industry with multiple Angie's List Super Service awards, a BBB A+ rating, and five-star ratings over multiple online review platforms.