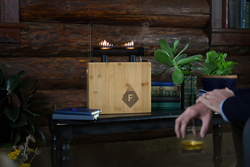 As technology continues to change the way we interact with music, I wanted to create a unique way of listening to music that provided a fun and unexpected ambiance at any gathering.
BEND, Ore. (PRWEB) October 24, 2017
Grey Street Design, the company behind the Fireside Audiobox that puts a mesmerizing spin on the music-listening experience, today announced it will begin shipping 100 units in January 2018 to its Kickstarter and Indiegogo supporters. For those who missed the Fireside Audiobox crowdfunding campaigns, an additional limited supply of 100 units is exclusively available now for purchase at http://www.firesideaudiobox.com.
Over four years in the making, the Fireside Audiobox is far more than an ordinary audio system. The handcrafted unit comes equipped with a Bluetooth-enabled full-range speaker and uses a standard 16.4-ounce propane cylinder. Together, the sound waves and gas synergistically feed a row of 15 openings carefully placed along an aluminum tube to produce the most responsive and dramatic flame effects. The result is a beautiful contemporary-industrial audio system with real flames that playfully react and respond with the beat of your favorite tunes.
"As technology continues to change the way we interact with music, I wanted to create a unique way of listening to music that provided a fun and unexpected ambiance at any gathering," said Tyrone Hazen, lead designer of Fireside Audiobox and CEO of Grey Street Design. "After more than a year of fine-tuning, evaluating and testing, I am excited to move into the next phase of our business and deliver the first Fireside Audiobox units into the homes of our enthusiastic and supportive backers."
The Fireside Audiobox launched in 2016 via a crowdfunding campaign that raised more than $35,000 in just four weeks. The final version includes upgraded functionalities from its original design, including:

Enhanced Sound Quality: The new audio system includes a more powerful speaker along with an interior sound chamber to direct sound waves through the front of the unit. These additions provide increased sound clarity, volume and bass output.
Flame Adjustability: Since the flow of gas changes depending on air pressure, temperature and how long the unit is running, a manual valve is included so users can easily adjust the flame height to their preferred setting and environment.
Improved Safety Features: The addition of an electronic valve automatically shuts off the propane gas, should the unit tip over or experience a gas leak.
Built-In Phone-Answering Capability: Whether you're cooking in the kitchen, working in your office or listening to your favorite Spotify Playlist, you can enjoy hands-free phone capabilities directly through the Fireside Audiobox Bluetooth technology.
Additional Fireside Audiobox Features:

Bluetooth-Enabled: With its built-in Bluetooth technology, users are able pair the Fireside Audiobox with any Bluetooth-enabled device for easy music streaming.
Battery-Powered: More than 8 hours of constant play from included rechargeable onboard battery and power adapter.
Dimensions: The lightweight, self-contained audio system stands 19.5 inches high, 14 inches wide and 4.5 inches deep.
Pricing and Availability:
There are only 100 Fireside Audiobox units exclusively available for purchase online at http://www.firesideaudiobox.com. The pricing for these units are $500. In January 2018, the product will be available to the masses and through select partner retailers.
About Grey Street Design
Based in Bend, Oregon, Grey Street Design is an emerging concept-to-consumer product development firm with a vision of bringing innovations to market, including an initial collection of beautiful, authentic and handmade home statement pieces. Tyrone Hazen founded the company in 2013. For additional information, visit Grey Street Design online at http://www.greystreetdesign.com.