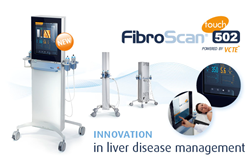 Our practice constantly seeks out the latest technology. Improving patient care is our number one priority!
HOUSTON (PRWEB) October 25, 2017
Liver biopsies are a thing of the past at Digestive and Liver Disease Consultants, PA. Recently, the practice adopted the use of Fibroscan® technology instead. Fibroscan® is a safe, non-invasive and painless technology which allows doctors to analyze liver damage with the help of a procedure which is very similar to an ultrasound.
A liver biopsy, by contrast, requires doctors to insert a needle into the body to withdraw a small amount of liver tissue for analysis. On rare occasions, the procedure has led to complications such as internal bleeding, bile leaks, and collapsed lungs.
The goal of either procedure is to measure liver scarring, or fibrosis. Fibroscan® technology accomplishes this with sound waves which are then translated into a 2D digital picture of the liver. The machine is also capable of measuring liver stiffness, a key indicator of scarring and damage. Doctors can use both the photo and the measurements to determine the severity of a patient's liver condition.
"Our practice constantly seeks out the latest technology. Improving patient care is our number one priority," explains Dr. Gurunath Reddy, one of the practice's award-winning gastroenterologists. "Fibroscan® provides us with immediate results, but does so in a safe, painless way."
The FDA approved the use of the Fibroscan® device in April of 2013. Over 660 peer-reviewed publications evaluated the clinical usefulness of the technology before it entered the United States medical technology market as a viable alternative to liver biopsies. This technology is also approved of and endorsed by the World Health Organization. The technology is currently in use in over 70 countries around the world, but not many US-based practices have invested in it yet, with no more than 350 locations across the nation offering the alternative.
ABOUT Fibroscan®
Fibroscan® is a product of Echosens™, a medical technology company located in Paris, France. Echosens™ is a leader in quantative elastography technology and holds multiple patent families related to said technology. To learn more, visit http://www.echosens.com.
ABOUT DIGESTIVE AND LIVER DISEASE CONSULTANTS, PA
Digestive and Liver Disease Consultants, PA has been providing gastrointestinal and liver care to patients in Harris and Montgomery Counties since 1987. It is home to an award-winning and highly acclaimed group of board-certified gastroenterologists with a combined 60 years of experience in their field. For more information visit http://www.txgidocs.com.