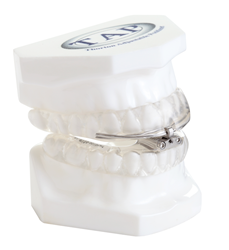 DALLAS (PRWEB) October 24, 2017
Airway Management, the medical device manufacturer of TAP Sleep Care products, announced an exciting new partnership in April 2017 with the highly regarded and well renowned distributor for Asia, Discovery Sleep. The agreement originally involved the distribution of Airway Management's highly innovative, myTAP & myTAP PAP Nasal Pillow Mask.
As of October 2017, Discovery Sleep has added the custom line of TAP products as well, including the new dreamTAP.
"We are thrilled by Discovery Sleep's addition of our custom TAP products to their portfolio. This provides the complete TAP Sleep Care System for distribution in Taiwan, Philippines, Thailand, Malaysia, Indonesia, Hong Kong and South Korea," says Charles Collins, CEO of Airway Management.
About Airway Management:
At Airway Management, we are committed to improving the health, well-being and quality of life for people who suffer from sleep-disordered breathing. We fully support clinicians, health care professionals and laboratory technicians in this endeavor. Our TAP Sleep Care System is a comprehensive suite of devices to mitigate sleep-disordered breathing that has the most independent peer-reviewed studies and the best patient outcomes compared to any other oral appliance.
About Discovery Sleep:
Discovery Sleep is a leading Health Technology supply chain company specializing in the Distribution of Sleep and Health products across Asia. The Company nurtures strong working relationships with leading global brands to jointly address growth opportunities in Health Technology. Vendors are able to leverage a large and diverse customer base and gain access to distribution centers in Taiwan, Philippines, Thailand, Malaysia, Hong Kong and South Korea.