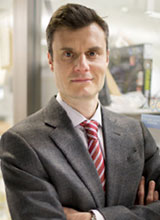 Preora is actively seeking commercial partnerships for development and distribution rights of our technologies. President & CEO John W. Hart
Evanston, Illinois (PRWEB) October 24, 2017
Through its dedication to helping people survive cancer, the Preora team of researchers and engineers have discovered new applications for the company's proprietary Partial Wave Spectroscopy (PWS) NanocytologyTM platform. The team identified novel technologies based on its studies of the early cellular changes that cause cancer, and the corresponding impact on current and future treatments.
In order to better reflect the company's full range of technologies that extend beyond the diagnostics sector, Preora's board of directors today announced that Preora Diagnostics Inc. has changed its name to Preora Healthcare Inc.
Preora is widely acknowledged as the creator of the field of nanocytology, the study of cells at the nanoscale. As the company continues to advance its PWS NanocytologyTM platform, it will produce new applications to help cytologists, cytopathologists, physicians and researchers increase their impact and influence in new approaches to diagnosing and treating cancer.
"When Dr. Hari Subramanian and our other Northwestern University team members created the PWS NanocytologyTM platform, our primary focus was to enable dramatic improvements in survival rates through the early detection of cancer," said Preora Chairman of the Board Vadim Backman, PhD. "That focus drove our efforts to research and develop low-cost, minimally invasive, highly accurate and easy-to-use cancer screening tests for many of the most common forms of cancer.
"Earlier this year, a confluence of developments helped us realize that the PWS NanocytologyTM platform's impact extends far beyond diagnostics. Our new name, Preora Healthcare, represents the breadth of the novel approaches we will bring to the medical community and the patients they serve in the coming years, starting in 2018."
AREAS OF OPPORTUNITY
The company's program is now composed of three distinct yet complementary opportunities that will increase the depth and quality of clinically relevant information:
1. Sample Preparation Systems to enhance the speed and accuracy of microscopic and nanoscopic evaluation of cells. The novel technology creates an improved cell monolayer, enabling a range of downstream applications that can have positive impacts on diagnosing and treating cancer. These Class 1 devices are consistent with current medical practice and are covered by current reimbursement codes. As such, no new clinical trials are required to bring the devices to the marketplace.
2. PWS Nanocytology™ – Fixed Cell to provide low-cost, minimally invasive, highly accurate and easy-to-use screening tests for seven common types of cancer.
3. PWS Nanocytology™ – Live Cell to improve the selection of treatment options, supporting the real-time needs of physicians and pathologists.
FINANCING & COMMERCIALIZATION
The company is seeking commercial partnerships and while also raising $5.0 million through a Series A round. The funds will be used to advance its sample preparation systems toward rapid entry into the U.S. healthcare market, and to continue clinical studies for its lung and colorectal cancer screening tests.
"Consistent with our mission, we want to develop these technologies and get them into the hands of clinicians worldwide for the benefit of the patients they serve," said Preora Healthcare President and CEO John W. Hart. "Preora is actively seeking commercial partnerships for development and distribution rights of our technologies. Our plan over the next three to five years is to license and/or sell our technologies to organizations that offer the best opportunity for adoption due to their regional or global commercialization capabilities and expertise."
With the expanded opportunities offered by the PWS Nanocytology™ platform, the company is committed to maintaining its focus on its two near-term priorities:

Preora's new sample preparation methods deliver efficiency improvements in a small, customer-friendly footprint, enabling automation that improves current microscale evaluations for use in applications such as ROSE (Rapid On-Site Evaluation) procedures utilizing thin-needle biopsy techniques, gynecological and non-gynecological evaluations, and scientific research conducted in both academic and commercial organizations.
The company's PWS Nanocytology™ – Fixed Cell technology will generate low-cost cancer screening tests that could significantly improve the ability to detect cancers earlier when treatments are most likely to be effective. The company has validated the technology and its potential to detect cancer in more than 1,500 patients in seven different cancer types (lung, colorectal, prostate, pancreatic, ovarian, thyroid and esophageal). Preora continues to advance its development programs for its screening tests for lung and colorectal cancer screening tests.
"We are dedicated to doing everything we can to provide new and better options to physicians and the patients they serve," said Preora Healthcare Chief Technology Officer Hari Subramanian, PhD. "We share their passion to save lives by detecting cancer sooner and then having it treated it more effectively."
ABOUT PREORA HEALTHCARE
Preora Healthcare Inc. is a private medical device company focused on developing technology for the early detection and treatment of cancer through its proprietary Partial Wave Spectroscopy (PWS) NanocytologyTM platform, which is licensed exclusively by Preora through ISO 13485-certified NanoCytomics, LLC and Northwestern University. The platform enables the study of cells at the nanoscale, resulting in an enhanced understanding of the earliest cellular changes that lead to cancer.
In recent years, several organizations have recognized the potential benefits associated with the PWS NanocytologyTM platform, including the Wall Street Journal's "Six New Medical Technologies Worth Watching," Corporate LiveWire's international "2016 Best in Cancer Diagnostics" award and as a finalist among all technology sectors in the 2017 Chicago Innovation Awards. For more information, visit http://www.preorahealthcare.com.