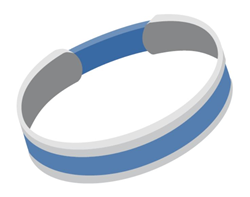 "A cancer awareness wristband has an emotional connection to the wearer, and now it can be dressed up with our SupportStore silver bangle worn underneath" - Ron Reimann, President
Chicago, IL (PRWEB) December 26, 2017
Introducing a SupportStore-designed and manufactured silver metal bangle that works with the rubber wristbands people already wear and love. The brushed silver look open ended bangle has raised edges to accept any of the 240 different silicon rubber wristbands sold by Supportstore.com and others.
The result is a fun-formal way to dress up a wristband that has a color and cause that someone cares about.
For example, in a family with someone fighting cervical cancer, a family member may wear Supporstore's "Find a Cure - Fight Cervical Cancer" teal green rubber wristband worn in place over the Supportstore wristband bangle for a more formal look than the wristband alone.
SupportStore Interchangeable Rubber Wristband Silver Bangle details
The matte silver color plated copper bangle is designed to fit most wrists, and can be adjusted to change the size. The bangle holds one rubber wristband while on the wrist. The bangle comes with instructions and a velvet pouch, and the retail price is $9.95, less with volume discounts.
The bangle is designed to be worn with a rubber wristband stretched around the surface of the bangle. Supportstore offers a choice of over 240 cause related wristband messages, in stock, for same day shipping, that work with this bangle.
A percentage of each sale is made available to be donated to one of several charities.
About SupportStore.com
SupportStore is an online only retailer of items people and businesses use to "shout out what they care about."
Customers choose from 500 in-stock items that ship same day, such as a "Hope Courage Faith" black silicon rubber wristband or a black enamel on metal lapel pin.
With a total inventory of over 500,000 items, SupportStore supplies both consumer needs and businesses with products for fundraising events, awareness programs or memorials.
SupportStore was founded in 1999, has 7 employees, a warehouse in St. Louis, and enables buyers to donate a portion of awareness item purchases to charity.
SupportStore Silver Interchangeable Rubber Wristband Bangle design is Copyright 2017 ZapTel Corporation.
###