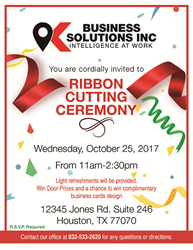 RSVP for the Ribbon Cutting Ceremony is required and can be made by calling K Business Solutions Inc. at 832-533-2620
Houston, Texas (PRWEB) October 24, 2017
K Business Solutions Inc. is excited to announce the ribbon cutting ceremony for their new office location at 12345 Jones Rd, Suite 246, Houston, Texas. The ceremony is scheduled from 11a.m. to 2:30 p.m. on Wednesday, October 25, 2017. The celebration will include light refreshments, door prizes and a chance to win a complimentary business card design package.
K Business Solutions Inc. is expecting a strong turnout from their current SEO, SEM, Web Design and Software Development clients, along with their many associates and colleagues in the Houston business community. The celebration will be an opportunity for the owners and staff at K Business Solutions, Inc. to show their appreciation to clients and the entire Houston business community for the part they have played in their business growth and success.
The opening of the new office location will also be celebrated with a limited time, Local SEO marketing offer. The special offer will include a Local SEO Marketing Package with 5 Keyword Targets for only $349 a month. This special offer will not require a long-term contact and will be available to Texas businesses who sign up prior to 2017 yearend.
RSVP for the Ribbon Cutting Ceremony is required and can be made by calling K Business Solutions Inc. at 832-533-2620.
About: K Business Solutions Inc. is a Houston-based digital marketing agency with a global clientele. The founder. Zahra Rangwala, established the company in 2007 in an attempt to mesh her IT career with her role as a new mother. In addition to success for her clients, Zahra has also established that a woman can develop a thriving business while maintaining her role as a dedicated mother. K Business Solutions Inc. serves a broad range of industries providing custom website design, search engine optimization (SEO), software development, web hosting and ecommerce solutions.
Their office address is 12345 Jones Rd, Suite 246, Houston, Texas, 77070, and they can be found online at https://www.kbizzsolutions.com
For further information call 832-533-2620 or email them at sales(at)kbizzsolutions(dot)com