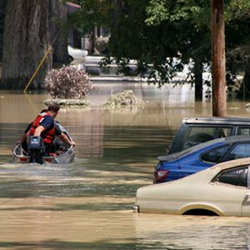 Our agency is organizing an ongoing effort to provide critical support to direct responders in Texas that are even now continuing to work to reverse the unbelievable damage caused by Hurricane Harvey
Naperville, IL (PRWEB) October 26, 2017
The Larson Agencies, a Chicago area provider of insurance and financial preparation services that works with residents throughout northern Illinois, is inaugurating an extended charity drive to raise support for efforts of direct responders in Texas as they assist families affected by Hurricane Harvey.
This past August, many families were affected by Hurricane Harvey, a category 4 storm that devastated a massive number of homes and businesses in Texas. Harvey is now the second most costly natural disaster in the history of the nation, and rainfall exceeding 50 inches in some areas has led to catastrophic flooding that continues to displace families.
"Our agency is organizing an ongoing effort to provide critical support to direct responders in Texas that are even now continuing to work to reverse the unbelievable damage caused by Hurricane Harvey," says Evan Larson, founder and chief executive of the Larson Agencies.
To generate support throughout the Chicago area, the Larson team has built a large online following over social media and email channels and continues to share information with supporters about the charity drive. Further efforts to raise public awareness area will include a new cover article scheduled for release in a new edition of the firm's online magazine "Our Hometown," which is produced monthly for readers in Illinois: http://wecoverchicago.com/magazines/.
This marks the third major charity drive undertaken by Larson and his team since the Larson Agencies became an active participant in the Agents of Change charity assistance coalition. Over the months to come, Larson and his team plan to launch additional charity events every 60 days in support of other charitable causes in the region.
The Larson Agencies has produced the following page to provide additional information on the charity event to provide support to direct responders who are assisting families in Texas affected by the Hurricane Harvey disaster: http://wecoverchicago.com/causes/hurricane-harvey-relief/. A complete list of all charity events sponsored by the Larson Agencies can be reviewed in the company's Community Causes archive, located here: http://wecoverchicago.com/community/.
About The Larson Agencies
As a Personal Finance Representative in the Chicago area, agency owner Evan Larson knows many local families. His knowledge and understanding of the people in his community ensures that clients of the Larson Agencies are provided with an outstanding level of service. Evan and his team look forward to helping families protect the things that are most important – family, home, car and more. The Larson Agencies also offer clients a preparation strategy for achieving their financial goals. To contact an expert at Larson Agencies, visit http://wecoverchicago.com/ or call (630) 230-1829 in Naperville or (847) 773-1201 in South Egin.