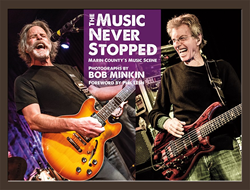 His photography, shot from the hip to the heart. Minkin's a master. - Wavy Gravy
San Rafael, CA (PRWEB) October 30, 2017
Bob Minkin has photographed thousands of concerts in clubs and arenas across the USA and Europe. His photographs have been featured in many books and publications including Rolling Stone, Time Magazine, Relix Magazine, Marin Magazine, Entertainment Weekly, Guitar World, Guitar Player and in music CDs and DVDs. Live Dead, The Grateful Dead Photographed by Bob Minkin, was published in 2014.
Tonight Minkin joins Marin IJ music writer and Marin beloved journalist Paul Liberatore to discuss his life, career and most recent endeavor, THE MUSIC NEVER STOPPED, a stunning hardcover coffee table book spanning over 25 years of music photography and short stories in Marin County.
The presentation will include slides of photographs, photography on display and discussion followed by audience Q & A. Book Sales and Signing.
TICKETS: Advance: $15/ Door: $20 Available at http://www.marinjcc.org/arts
WHEN: Wed. Dec. 6 @ 7:30pm
WHERE: The Osher Marin JCC, 200 North San Pedro Road, San Rafael.
PARKING: Ample FREE parking. The JCC is 1/2 mile E off 101.
WHAT TO EXPECT: An evening of lively conversation in the Hoytt Theater with Cabaret table seating, question & answer opportunities, meet & greet & book sales and signing.
CONCESSIONS: Peets coffee, Numi Teas and a variety of snacks and freshly baked goods available for purchase. Concessions are offered within the theater may be enjoyed throughout the performance. No table service.
More about Bob Minkin:
Bob is also a partner in Minkin Design + Marketing, a web design and marketing company.
Originally from Brooklyn, NY, he lives with his family in Marin County and enjoys hiking on the many trails of Marin and piloting his Piper Cherokee airplane whenever he can, usually with his camera close by.
CALENDAR EDITORS PLEASE NOTE:
Bob Minkin in Conversations with Paul Liberatore
Wed., Dec. 6, 2017: 7:30 pm
The Osher Marin JCC
Doors/Concessions: 7pm
On stage conversation followed by audience Q&A, book sales and author book signing.
The Osher Marin JCC
200 N San Pedro Rd. San Rafael, CA
Tickets Available now at http://www.marinjcc.org
Coming soon:
KITKA performs Wintersongs
Sat, Dec. 9, 2017: 8:00 pm
The Other Cafe Comedy Showcase presents:
The 8th Annual Stand-Up Comedy New Year's Eve Celebration
Sun, Dec. 31, 2017: 9:00 pm
The Kanbar Center for the Performing Arts is the Performing Arts Department within the Osher Marin Jewish Community Center in San Rafael, California. For close to 25 years they have spread the power of music, voice, humor, taste, culture, movement and words throughout the community by presenting classical music, comedy, musical concerts, jazz, theater and performance in the grand Hoytt Theater, lectures, chats and demonstrations in the Kurland
Lounge.