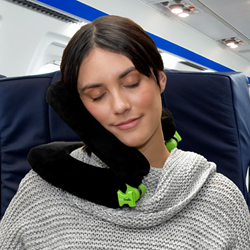 Whether you're in an economy class seat on a jet or traveling in the back of a car, on a bus or in a train, FaceCradle Lite is versatile enough to help you get the rest you need and crave.
NEW YORK (PRWEB) October 24, 2017
FaceCradle Lite, lighter and smaller than the original FaceCradle that broke records on Kickstarter last year, is already a hit with travelers on the crowdfunding website – attracting more than $16,000 (USD) to surpass its campaign goal on Kickstarter.
"We're pleased to see travelers from the United States to as far away as Singapore want to 'Upgrade to Sleeping Class' and are backing our new FaceCradle Lite," said FaceCradle Co-founder David Scrimshaw. "We know they are going to enjoy getting a good night sleep the next time they fly in economy class to arrive rested and refreshed at their destination – and for the fraction of the cost compared to upgrading to first-class seating."
Described by Huffington Post Lifestyle Editor Suzy Strutner as "a nifty little kickstand for your head that takes regular ol' travel pillows to the next level," the FaceCradle line is designed for the way people actually sleep – with their head in a horizontal position. Like its predecessor, FaceCradle Lite offers a total of five sleep modes including the deep-sleep mode that simulates the natural horizontal sleeping position – along with a face-down position (as if in a massage chair) that can be used even while the traveler is seated in a vertical, economy-class seat.
"Travelers now have the choice of the Original Model, now called Luxe, for its luxurious size and comfort and FaceCradle Lite for the smaller size and weight," Scrimshaw added. "The new lite version is easier to carry and maneuver, is more portable and its revised shape fits snuggly to the seat back."
FaceCradle Lite is available at a limited quantity, Kickstarter Special Price of $29 (USD) during the crowdfunding campaign. It is also suitable for children and adult travelers alike, and can be used to get to sleep in all forms of transportation.
"Whether you're in an economy class seat on a jet or traveling in the back of a car, on a bus or in a train, FaceCradle Lite is versatile enough to help you get the rest you need and crave," Scrimshaw said.
Scrimshaw, along with his partner Roz Ruwhiu, came up with the idea for FaceCradle through their own experiences traveling in economy class on long-haul flights after struggling unsuccessfully with all the travel pillows that were available on the market.
"FaceCradle really solves a problem faced by millions of travelers every year," Scrimshaw said. "We designed our travel pillow so 'you fall into it and fall asleep,' unlike other travel pillows on the market that either fall off you, or you fall off the pillow, as you doze off."
With FaceCradle Lite, the creators took all the comments on its original pillow to develop its newest travel sibling.
"Our sole objective is to put an end to sleepless travel and enable all of us in economy seats to have the option to 'Upgrade to Sleeping Class,'" he said.
To find out more about the most popular travel pillow on the market today and to order its new, lighter and more versatile version, visit the FaceCradle Lite Campaign Page on Kickstarter.
About Hairy Turtle Pty Ltd
Hairy Turtle Pty Ltd was established in 2015 by David Scrimshaw and Roz Ruwhiu. David is a seasoned entrepreneur, marketer and product designer who has built and owned famous brands and developed more than 30 innovative products including FaceCradle. Roz is a senior executive in the advertising industry and has been Head of TV for some of Australia's leading agencies. Roz has produced many memorable commercials. Each hold the traits of being a tortoise and a hare at different times, hence the quirky company name.
Their first product together, FaceCradle, set records on Kickstarter in August 2016. It is the number one backed travel pillow of all time, having raised more than $1.1 million (USD) – almost three-times more than any other travel pillow. In a little over one year, FaceCradle has sold more than 100,000 units and is distributed to more than 20 countries.
For more information, visit the FaceCradle Lite Campaign Page on Kickstarter