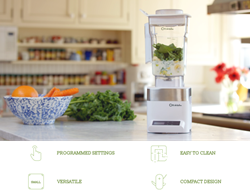 Since this was the first consumer product our company has introduced, we're excited about the response we received during our crowdfunding campaign.
Hong Kong (PRWEB) October 26, 2017
Smoothie makers, milk shake lovers and foodies invested more than $78,000 in the new OdaKitchen Smoothie Pro – tripling its original campaign goal as the Outstandingly Designed Appliances (ODA) company blends a successfully crowdfunding campaign finish on Indiegogo.
Presales of the commercial standard smoothie maker, specifically designed for kitchen-use, will continue at http://www.amazon.com.
"Our supporters on Indiegogo will be the first to enjoy the unrivaled high-speed motor, the patented eight-inch carbon steel blades and BPA-free pitcher that comes with the OdaKitchen Smoothie Pro," said OdaKitchen founder Oscar Chow. "We know they're going to enjoy making the healthiest and tastiest smoothies for themselves and their family, whether they're making smoothies, hot soups, salsas or baby food."
OdaKitchen, a company made up of a team that has been manufacturing best-selling home appliances for several years, engineered the OdaKitchen Smoothie Pro as the world's first blender that reduces ingredients into extremely tiny pieces. By applying cutting-edge technology into the OdaKitchen Smoothie Pro, users can make the most healthy and tasty smoothies in seconds – never seeing any leafy chunks, chewable seeds or uneven ice cubes in smoothie again. The blender is designed to pulverize the toughest ingredients to the most absorbable states to create smooth-as-silk smoothies and creamy, indulgent milkshakes.
Features include:

Powerful motors with an unrivaled high speed of 39, 000 RPM, that spin in a fast-and-slow pattern to reach the maximum blending efficiency. Built with full copper wires and thickened rotor, the motor also offers a longer lifespan and lower noise level.
Carbon steel blades, creating greater durability and strength, with each blade assembled with both blunt and sharp sides – the blunt side hitting the ingredients powerfully while the sharp side cuts precisely when rotating rapidly.
A unique, square-designed pitcher that creates a unique controlled vortex, automatically pulling the ingredients back to the blades for faster, smoother blends – meaning no tamper is needed, and it is easy to clean.
An ultra-stable drive socket, and the use of zinc alloy die-casting drive systems to connect the blade to the motor base, which makes the OdaKitchen Smoothie Pro's motor durable, stable and less heavy.
A programmed self-cleaning setting, allowing for easy cleaning with no hand washing required.
A compact design that makes for easy storage, with no countertop or a cupboard room necessary.
Providing 1,450 W (1.9 Horsepower) with a 1.5-liter capacity.
"Since this was the first consumer product our company has introduced, we're excited about the response we received during our crowdfunding campaign," Chow added. "Because we were able to offer the OkaKitchen Smoothie Pro at an affordable price compared to other high-performance, commercial blenders, we thought the timing was right to introduce it to the consumer market – and our crowdfunding backers confirmed we were right."
To find out more or purchase the OkaKitchen Smoothie Pro, visit http://www.amazon.com.
About OdaKitchen
Outstandingly Designed Appliances (ODA) Kitchen is a team of engineers with a mission to bring the best kitchen appliances to every household. The team believes that great products are results of great engineering, and the company's products are engineered to provide unbeatable performance, user experience and the ultimate value. OdaKitchen achieves its mission through leveraging its engineering expertise and supply-chain efficiency to create best-in-class products that everyone can enjoy. The company was founded in Macau, and now has offices in Hong Kong and China – with more than 20 people working on product design, engineering and in production. For more information, visit
http://www.odakitchen.com.