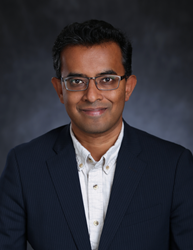 Vikram is an expert at building, managing, and consolidating IT Infrastructure to support innovative cloud-based approaches.
Alpharetta, GA (PRWEB) October 24, 2017
SPH Analytics (SPH), a leader in healthcare Triple Aim solutions for providers and health plans, today announced a new addition to the Executive Leadership Team. Vikram Natarajan has joined the company as Senior Vice President, Development & IT, reporting directly to CEO, Amy Amick. Vikram joins the team as the company has expanded its product line and client base and is poised for exponential growth. Recently ranked the #1 Analytics Firm on Black Book's List of Top 50 Disruptive Health IT Companies, SPH provides a next generation platform -- Nexus™ Platform – with innovative quality, cost, and experience solution suites that provide meaningful impact to its provider and payer clients. As an experienced healthcare technology executive with deep expertise in financial and patient engagement solutions, Vikram will lead the development and IT teams in support of SPH's strategic initiatives to empower their clients to achieve the Triple Aim.
"SPH Analytics is fortunate to have Vikram join our leadership team as we prepare for the next step of our growth," said Amy Amick, CEO of SPH Analytics. "Vikram will be instrumental to the pursuit of our vision through a proven track record of excellence in bringing new products to market quickly, deep expertise in consumer digital health and interoperability, and an adherence to enterprise architectural excellence as the foundation for high quality solutions. Vikram is an expert at building, managing, and consolidating IT Infrastructure to support innovative cloud-based approaches. We are looking forward to the immediate impact he will make on driving client success."
"I have dedicated my career to developing and implementing technology solutions that improve the patient experience of care. In today's complex healthcare environment, organizations need single-source solutions to multiple challenges that help them better serve their patients at lower costs, said Vikram. "SPH Analytics offers these kinds of solutions and has a distinguished underlying Nexus Platform which poises the company for even greater success. Their progressive vision, combined with their strong team of developers, made joining the company an easy decision. I look forward to helping SPH impact more organizations with exciting new product releases."
Before joining SPH, Vikram was Chief Technology Officer and SVP Technology at Medfusion, Inc. where he was instrumental in delivering patient- and provider-facing web and mobile applications. Previously Vikram held leadership roles in in tele-health, clinical research, and other related healthcare companies.
Vikram holds a Master of Science degree in Computer Science Georgia Southwestern State University and a Bachelor of Science degree from Birla Institute of Technology and Sciences.
About SPH Analytics
SPH Analytics (SPH), a leader in healthcare analytics and population health management, empowers clients to analyze and interpret their clinical, financial, and consumer experience data to maximize their performance. SPH's Population Care™, Population Value™, and Population Engage™ solutions are built on the innovative Nexus™ Platform, providing insights and impact to integrated health networks, ACOs, hospitals, ambulatory care providers, physician groups, and health plans. SPH's quality measure dashboards, financial risk measurement, healthcare survey and call center solutions, and consulting services empower clients to meet the Triple Aim by improving population health, reducing overall cost of care, and improving the patient experience.
Ranked number one analytics firm on list of top 50 disruptive health IT companies and number one in MACRA and MIPS Support Technology for Value-Based Care by Black Book Research, SPH Analytics has been providing insights to clients for more than 24 years and serves clients in all 50 states. Corporate headquarters are in metro Atlanta. SPH Analytics is a portfolio company of the $3 billion Symphony Technology Group. For more information, call 1-866-460-5681 or visit SPHAnalytics.com.