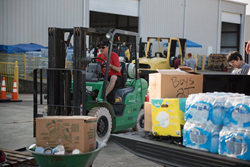 We didn't have to think twice about getting out there and doing our part in the relief efforts. We owe so much to this community and we're honored to be able to help on such a large scale
Houston, Texas (PRWEB) October 25, 2017
The team assembled and delivered care packages with supplies and necessities for families in need, as well as offered assistance with debris removal and home repairs.
"We didn't have to think twice about getting out there and doing our part in the relief efforts," said Lance Loken, CEO of The Loken Group. "We owe so much to this community and we're honored to be able to help on such a large scale."
The Loken Group was also instrumental in the logistics behind Keller Williams' KW Cares relief efforts after Hurricane Harvey.
2911 Fabrication, a full-service fabrication, design and field service company, graciously provided 24,000+ sq. ft. of their shop space to serve as the KW Cares command center – the hub for over 2,374 volunteers working tirelessly to assemble and deliver 15 semi-trucks worth of care packages. Food, water, hygienic items, cleaning supplies, diapers, pet food and more were all donated to Houstonians in need.
"It is truly amazing to see so many people come together in times of disaster to reach out a helping hand," said Sydney Kempler, Chairman of the TLG Gives committee. "We're incredibly proud to be a part of this city and will remain dedicated to helping Houston rebuild."
The Loken Group, a team of specialists out of the Keller Williams Realty Signature office, serves real estate buyers, sellers and investors in all 9 counties in the Greater Houston Area. They were recently named #2 (Ranked by 2016 Sales Volume - $300.62 million) in the Houston Business Journal's Top 25 Residential Real Estate Large Teams; and #8 (Teams by Transaction Sides in 2016 - 1254.25) and #28 (Teams by Sales Volume in 2016 - $300 mil) in America by REAL TRENDS (Wall Street Journal) The Thousand in 2017. In addition, they have been named the #1 Best Place to Work in Houston (2015, Houston Business Journal), and ranked #1 out of Houston real estate companies on the 2017 Inc. 5000 List of America's Fastest Growing Companies list. Out of all Keller Williams agents worldwide, The Loken Group was also named #2 in the world for units and volume based on 2016 closings. For more information about The Loken Group, please visit our website, http://www.TheLokenGroup.com.
TLG Gives is a 501(c)(3) and all donations made to TLG Gives are tax-deductible (Tax Id –81-2337937). 100% of donations received go directly to TLG Gives Projects. TLG Gives completes 2 main philanthropic outreach projects in the Houston area annually: The TLG Gives Angel Tree in December and the TLG Gives Home Transformation in the summer. To make your tax-deductible donation, visit http://www.TLGGives.com/Donate. To learn more about TLG Gives, visit our website at http://www.TLGGives.com.