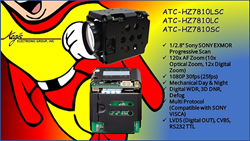 (PRWEB) October 24, 2017
Tiny Blocks of Power
Any situation calling for powerful compact imaging is ideal for the ATC-HZ7810 family of cameras. This is the "Mighty Mouse" of cameras. The features packed into these high-definition block cameras are astonishing.
Features:
The ATC-HZ7810's dimensions are 41.6mmx45mmx61.6mm making it ideal for several industrial imaging applications. The Infrared (IR) Cut Filter, in-picture display, 1-24 Privacy Zone Masking Feature, motion detection, and picture freeze, allow deployment in security/surveillance jobs where discretion is crucial to success.
This little powerhouse also features a 1/2.8" Sony Exmor Progressive Scan CMOS Sensor, 120x AF Zoom (10x Optical Zoom, 12x Digital Zoom), 1080 30FPS(25FPS), Mechanical Day & Night, Digital WDR, 3D DNR, Defog, and Multi-Protocol (Compatible with Sony VISCA). The camera is ready to output CVBS, HD-SDI, or LVDS videos, for simply integration into any system.
Models & Applications
The ATC-HZ7810 has three different models to choose from, ATC-7810LSC, ATC-HZ7810LC, and the ATC-HZ7810SC. All three models have the same dimensions allowing them to be used in any of these applications:
Machine Vision
Robotics
Drones
Bomb Disposal Robots
Unmanned Vehicles
Surveillance
Police Vehicles
Remote Ocean Vehicles (ROV)
Unmanned Aerial Vehicles
Intelligent Traffic Systems
Industrial
Unmanned Vehicles
Video Conferencing
Houses of Worship
Aegis Electronic Group, Inc.
Aegis Electronic Group, Inc. is excited to add this AF Zoom Camera to an already robust selection of imaging equipment. In addition to several other fantastic block cameras, Aegis carries all the needed accessories for operating any one of the ATC-HZ7810 cameras. Take a look here => http://bit.ly/2iioS99.