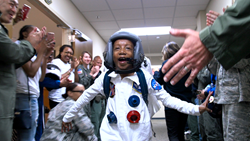 Zayden's Wish inspires us all to imagine what's possible – he set a high bar for using VR to instill hope and joy. - Chad Eikhoff
Atlanta, GA (PRWEB) October 24, 2017
TRICK 3D, an immersive content studio specializing in virtual reality (VR), augmented reality (AR) and 3D animation, and Make-A-Wish Georgia today announced the news of having received the Wish Innovation Award for "Zayden's Wish." The award, given for the most innovative wish and presented by Make-A-Wish America, is an annual honor sought by each chapter for exhibiting extraordinary ingenuity and creativity in accomplishing a child's wish for that year. "At Make-A-Wish America, it's our charge to inspire our 62 chapters to come up with ways to deliver wishes that have the most significant and long-lasting impact on wish kids and their families," remarked David Williams, president and CEO of Make-A-Wish America. "We have seen, time and again, that when we can make seemingly impossible wishes come true for these families, they experience an improved sense of overall hope and an improved outlook. Zayden's Wish represents a remarkable achievement in harnessing creativity and technology to make that hope happen in a whole new way."
Seven-year-old Zayden Wright, who has endured more than 40 echocardiograms to-date, wished to blast off to Saturn in a red rocket ship. Upon receiving this wish request, Make-A-Wish Georgia partnered with TRICK 3D to make the wish come to life. "Zayden's Wish," a VR experience crafted exclusively for Commander Zayden, was the first-ever wish to be accomplished using virtual reality (VR) technology. The creative and technical teams at TRICK 3D used a recording of Zayden sharing with his mother, LaShonda Wright, what he expected to see when on his journey to Saturn. The team then used Zayden's creativity and imagination to create a VR experience that took the young astronaut to Saturn on a red rocket ship, the 'Zayden 7,' where he encountered a friendly alien creature named BeeBo. TRICK 3D utilized technology tools from NVIDIA, Unreal Engine and HTC Vive, harnessing them to bring Zayden's Saturn expedition to life in VR. "Zayden's wish inspires us all to imagine what's possible – he set a high bar for using VR to instill hope and joy," said Chad Eikhoff, founder and CEO of TRICK 3D. "It's that infinite sense of imagination that led our team to create a new production pipeline to meet the challenge, and we're excited by the innovative pathways this wish paved that will grant future wishes not yet imagined." 
In addition to receiving the Wish Innovation Award, Make-A-Wish Georgia invited Commander Zayden and his family to the chapter's annual Wish Ball, the hallmark fundraising event of the year. On Saturday, Oct. 21, Zayden, LaShonda, and Zayden's father, Zack Wright, challenged Make-A-Wish Georgia supporters and donors to complete Zayden's next "mission" – to fund another child's wish. With the help of Commander Zayden, the chapter raised over $220,000 in 10 minutes. "A wish has the unique ability to engage a community in bringing a child's imagination to life," remarked Tim Earley, CEO of Make-A-Wish Georgia. "Zayden's Wish is just one example of the transforming powers of these life-changing wish experiences. With nearly 800 local children still waiting for his or her wish, we are committed to continuing to innovate and engage bright minds throughout our state until every critically ill child's wish is granted."
# # #
About Make-A-Wish Georgia
Since 1995, Make-A-Wish Georgia has been granting the wishes of local children with life-threatening medical conditions to enrich the human experience through hope, strength, and joy. Make-A-Wish Georgia is a movement, powered by you, to renew families and communities disrupted by serious childhood illness. We all have the power to make wishes comes true. Visit http://www.georgia.wish.org to experience the Power of a Wish.
About Make-A-Wish America
Make-A-Wish grants the wishes of children with life-threatening medical conditions to enrich the human experience with hope, strength and joy. According to a 2011 U.S. study of wish impact, most health professionals surveyed believe a wish-come-true has positive impacts on the health of children. Kids say wishes give them renewed strength to fight their illness, and their parents say these experiences help strengthen the entire family. Headquartered in Phoenix, Make-A-Wish is one of the world's leading children's charities, serving children in every community in the United States and its territories. With the help of generous donors and more than 33,000 volunteers, Make-A-Wish grants a wish somewhere in the country every 34 minutes. It has granted more than 285,000 wishes since its inception in 1980 – more than 15,300 in 2016 alone. Visit Make-A-Wish at http://www.wish.org to learn more.
About TRICK 3D
TRICK 3D is an immersive content studio specializing in VR, AR and 3D animation. With deep roots in commercial and original 3D film production, TRICK 3D's capabilities include virtual worlds and sets, character animation, photo-real renderings and visualization, stereoscopic 3D and more. The studio's full virtual production pipeline includes a virtual camera system with live motion-tracked camera, as well as a composite and green screen stage. TRICK 3D enables virtual environments and experiences for some of the world's best-known brands including AT&T, CNN, Delta Air Lines, Intercontinental Hotels Group (IHG) and more, as well as entertainment giants like CBS and Turner Broadcasting System. To learn more about TRICK 3D, visit TRICK3D.com.